February 2020 Fine Arts Events
January 28, 2020 | Betty A. Proctor | Internal Press Release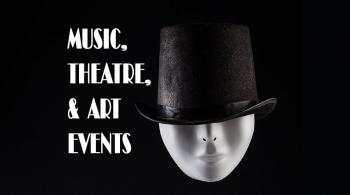 The Fine Arts department at Chattanooga State has scheduled a spring semester kickoff filled with music, art, and theatre. An ongoing Student Art Exhibition featuring student drawings, paintings, and photographs will be exhibited through May in the Center for Advanced Technology (CAT), Center for Engineering, Technology, Arts, & Sciences (CETAS), and the Donald F. Andrews Reading & Writing Center. 
Get your funny on and enjoy second year students in the Professional Actor Training Program as they present Comedy Improv based on suggestions by audience members on Wednesdays at 7:30 p.m. on February 5, 12, and 19.
Chattanooga State instructor of music and violinist, Wendy Case and guests, will present Olivier Messiaen's WWII masterpiece for mixed ensemble "Quartet for the End of Time," on February 6 at 7:30 p.m. A pre-concert talk by Dr. John Wykoff at 7 p.m. will precede the concert.
Under the direction of Sandy Morris, the UTC Symphony Orchestra will present its annual Concerto Concert at 3 p.m. on February 9. This free concert will include the Slavonic Dances No.5 and No.7, Op. 46, by Antonin Dvořák and Finlandia by Jean Sibelius.  Mackenzie Wall, flutist, and Hannah Holtzclaw, soprano, are two winners of the campus concerto competition and will perform "Il Pensieroso ed il Moderato (Sweet Bird)" from L'Allegro by G.F. Handel.
Vocal works by Franz Schubert, Francis Poulenc, Erik Satie, Aaron Copland and others will be performed on February 11 at 7:30 p.m. by soprano Jourdan Howell from the University of Texas, San Antonio.  Also included will be a newly composed song cycle by Chattanooga composer Douglas Hedwig.  Ms. Howell will be accompanied by Alan Nichols.
Chattanooga State music faculty Nicholas Hartline, clarinet and Dr. Alan Nichols, piano, team up with Chattanooga Symphony cellist, Suzanne Sims for an evening of chamber music on February 18 at 7:30 p.m. The concert will include Ludwig van Beethoven's Piano Trio, Op. 11 and Johannes Brahms Trio for Clarinet, Cello, and Piano, Op. 114.
The Chattanooga State Concert Choir presents a Masterworks Concert featuring Franz Schubert's Mass in G-Major on February 22 at 7:30 p.m. The concert features performances by Chattanooga state students, faculty, and local orchestral musicians.
The UTC Wind Ensemble will be presenting a performance of representative works from the wind band repertoire on February 25 at 7:30 p.m. The program includes works by Giovanni Gabrieli, Jennifer Higdon, Gustav Holst, Morten Lauridsen, and John Philip Sousa.
All February performances are free, open to the public, and held on the main campus of Chattanooga State, 4501 Amnicola Highway, in the C.C. Bond Humanities Theatre. For further information, call Music: (423) 697-2460 or Theatre: (423) 697-3246 or visit chattanoogastate.edu/events/2020-02.