Exploring Trauma and Redemption in Holocaust Literature and Film
February 7, 2020 | Keri Lamb | Internal Press Release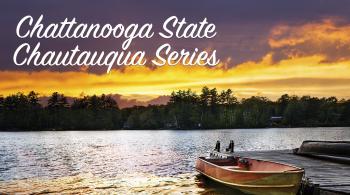 The Humanities and Fine Arts Division of Chattanooga State Community College will host the fourth lecture of its 6th annual Chautauqua Lecture Series on Thursday, February 13 at 2 p.m. in the Humanities Building Room 133 on Chattanooga State's main campus.
In 1874, people gathered on the shores of Chautauqua Lake in New York State to enjoy speakers, teachers, musicians, and specialists who entertained and educated members of the community, thus catalyzing an adult education movement that subsequently spread throughout rural America. Since 2014, Chattanooga State has hosted its own monthly Chautauqua to unite faculty, students, staff, and the larger Chattanooga community in exploring a wide array of topics within the Humanities. This year, Chattanooga State's Chautauqua Series features the compelling and culturally relevant research of seven Humanities & Fine Arts faculty as well as the series finale with Writers@Work 2019-2020 visiting author Daniel Wallace. 
This month, Dr. De'Lara Khalili Stephens will present "Time Reversed, Souls Severed, and Psyches Split: Exploring Trauma and Redemption in Holocaust Literature and Film," a discussion of how recurring motifs are employed not only to deepen empathy but also to heal and even redeem trauma. Stephens will discuss novels, poems, and films, and will also include travel photography in her exploration of this topic. This presentation is open to anyone interested in Holocaust studies in the humanities. The audience will also have a chance to try some "bibliotherapy"— a creative exercise writers use to process impactful events. 
In addition to Dr. Stephens' presentation, two more Chautauqua sessions will be held this spring. On March 19, Dr. Nick Mansito and Dr. Buck Weiss will delve into the importance of superheroes in popular culture and what their stories reveal about ethics, morality, philosophy, and mythology in "The Value of Superheroes." The final installment in the 2019-2020 Chautauqua Lecture Series will be held on April 9 in partnership with the Humanities Department's Writers@Work program. "Fish Out of Water -Translating Fantasy to Film" will feature an interview conducted by Associate Professor Sarah Page with the 2019-2020 Writers@Work visiting author Daniel Wallace about the film adaptation of his celebrated novel Big Fish.
WHEN: 2-3 p.m. February 13
WHERE: Humanities Building Room 133, Chattanooga State Main Campus, 4501 Amnicola Highway.
COST: Free to all members of the public.
FOR MORE INFORMATION: Facebook: "Chattanooga State's Chautauqua Series"; Instagram: "chautauqua_series"; Twitter: "@ChautauquaSeries"; Email: keri.lamb@chattanoogastate.edu.