Every Penny Counts: TCAT Classes Raise $3,127.38
December 20, 2018 | | Internal Press Release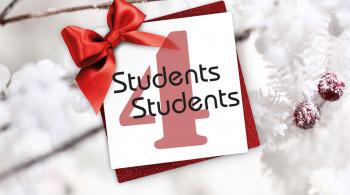 Chattanooga State HVAC Instructor Houston Graham said that the stamp and envelope used to mail a five-cent donation he received by mail from a friend cost more than the gift; however, inside the message intended was very clear: EVERY PENNY COUNTS.
Every December for the past 17 years, many campus clubs, organizations, faculty, staff, and classes alike choose a ChattState family to support through the Students-4-Students project. Many Chattanooga State students do not have the resources to provide gifts for their children. The project, spearheaded by the Student Government Association (SGA), involves choosing a student family with children. Gifts of clothing, books, and toys are selected for each child in the family from a list provided by the mother or father with information about clothing sizes along with their "wish list." 
For their second year of participation, students and instructors from Tennessee College of Applied Technology (TCAT) programs pooled resources to raise funds for the Students-4-Students project and collected a total of $3,127.38. 
"This project teaches our students compassion and encourages giving back to the community," states Graham. During the first year of TCAT participation in 2017, Jon Morrison's industrial electricity class took top honors for most money collected, while this year, Houston Graham's HVAC class enjoyed that honor. 
Remembering his friend's message, "every penny counts," Graham took it to heart by asking his students to shake out the change from their pockets for the kids several times throughout the past few weeks. "I was amazed at how much they gave each time I asked. They didn't just give change, they gave dollars, fives, tens and twenties," shares a surprised Graham.
2018 Students-4-Students participants included class members and their instructors from the following programs: HVAC, Industrial Electricity, Machine Tool Technology, Industrial Maintenance, Massage Therapy, Welding, Cosmetology, Medical Assisting, and Computer Support Technician.
The lives of over twenty students and their families this year will enjoy a memorable holiday season thanks to the generosity of TCAT students, faculty and staff, as well as the many ChattState clubs and organizations who also contributed to help make a welcome difference in their lives.