Enjoy Concerts, Recitals and Comedy During November
October 30, 2019 | Betty A. Proctor | Internal Press Release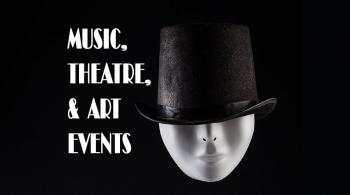 During November, Chattanooga State's Humanities and Fine Arts Division has a number of outstanding concerts and recitals in addition to the comedic opera favorite, The Pirates of Penzance. All performances will be held in the Humanities Theatre on Chattanooga State's main campus, 4501 Amnicola Highway.
Kicking off the November offerings, music lovers will enjoy the energetic, harmonious, and grand, Beethoven's Symphony No. 2 that will delight audiences of all ages on Sunday, November 3 at 3 p.m. This afternoon concert also features the CSO chorus in Gjielo's musical interpretation of Walt Whitman's upbeat and exuberant poem. *Admission Fee Required*– Tickets can be purchased at Chattanoogasymphony.org.
On Wednesday, November 5 at 7:30 p.m., the Music Department presents a recital featuring students of voice and applied instrumental study.
Be ready for laughs as the Theatre and Music Departments present Gilbert and Sullivan's classic comic opera, The Pirates of Penzance. There are three performances scheduled: November 15 and 16 at 7:30 p.m. with a Sunday, November 17 matinee at 2:30 p.m. ChattState students, faculty, and staff FREE. All others: adults $15, seniors, students, children $10.
Two band concerts will round out the month of November just before the Thanksgiving holidays. The Chattanooga State Jazz Band will present an evening of great Jazz standards under the musical direction of Jay Stanfill on November 19 at 7:30 p.m., while the Chattanooga State Symphonic Band, under the direction of Nicholas Hartline, will perform selections for wind band on November 26 at 7:30 p.m.
The student art exhibition displays drawings, paintings, and photographs exhibited in the CAT and CETAS buildings, and in the Donald F. Andrews Reading & Writing Center on a continual basis through December. The faculty exhibit on view at the Humanities Gallery includes a selection of recent work from Chattanooga State Fine Arts Faculty, including painting, drawing, collage and transfer, handmade paper, stone carving, gelatin silver and archival pigment prints.
All events are free and open to the public (except as noted). Donations will be accepted at the door. For further information call: Music: 423-697-2460 or Theatre: 423-697-3246.