Education is Always a Good Idea Using TN Reconnect
August 28, 2020 | Betty A. Proctor | Internal Press Release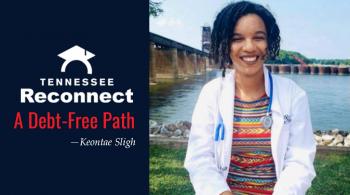 The Tennessee Reconnect Grant has helped thousands of adult students provide a debt-free path to a degree, diploma or certification. Applying for the grant is easy, and the Adult Services staff at Chattanooga State Community College will help you navigate the process while providing any support you need to see you through completion of your degree, diploma or certification - and on your way to a new career.
Adults often have many additional responsibilities that may include families to support, financial stress, jobs, care-taking, and more. Tennessee Reconnect is set up to provide up to five years of support and there are no income requirements to qualify for the grant.
Keontae Sligh, age 30, now a registered nursing major, had no idea what she wanted to do right out of high school. She changed her major three times while juggling school and work full-time before realizing she could not manage it. When she discovered Tennessee Reconnect, Keontae said, "It gave me the chance to go back to school without having to take out loans, and will help me graduate without being in loan debt."
Tennessee Reconnect information sessions are offered in-person or online:
Mondays via Webex @ 5:30 p.m. –  August 31; Sept. 14, 21, 28
Tuesdays via Webex @ 2 p.m. – Sept. 1, 8, 15, 22, 29
Wednesday in-person sessions in IMC-124 @ 2 p.m. – Sept. 9, 16, 23, 30
Thursdays via Webex @ 5:30 p.m. – Sept. 10, 17, 24
Fridays via Webex @ 11 a.m. – Sept. 4, 11, 18, 25
Saturdays via Webex @ 11 a.m. – August 29; Sept. 12, 19, 26
Learn more and RSVP for a Reconnect Info Session at chattanoogastate.edu/tnreconnect or call (423) 697-3346.