Dr. Liz Norell Named to CWLI Game ChangeHer Class of 2022
August 10, 2021 | Caroline Jewell | Internal Press Release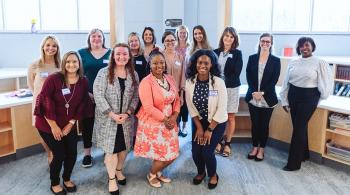 CWLI is pleased to announce the new Game ChangeHer class of 2022, CWLI's immersive mentor training program. The sixteen session program will offer a combination of personal and professional development topics that strengthen the skills and abilities of women and provide them with the tools to serve as effective mentors and leaders throughout the region. After participants work through a module, they will be paired as mentors with young women from Chattanooga Girls Leadership Academy (CGLA) to apply their knowledge in real time. The program will run from August 2021 and will conclude with a graduation ceremony in May 2022.
This year's fourteen participants include: Bethany Gardner (Regions); Megan Freeman (Urban Story Ventures); Julianne Clark (Chattanooga Food Bank); Jenny Martin (EPB); Lori Cordell (Hamilton County); Renee Swafford (Koch Foods); Judy Torres (Advent Health); Lisi Chavarri (RE/MAX Realtor); LaToya Williams (City of Chattanooga); Liz Norell (Chattanooga State); Leanna Young (First Bank); Jessica Seard (HHM); Sue Luse (Astec Industries); Rebecca Sosebee (BCBST).
"I loved participating in the Game ChangeHer program and would highly recommend the experience to any woman seeking to network with professional women in the community, learn from women leaders who excel in their careers, as well as participate in a dynamic mentoring experience with the women leaders of the future," said Martha Burkhart, Class of 2019-20 and Co-chair of the 2021-22 Game ChangeHer Committee.
About CWLI: The Chattanooga Women's Leadership Institute (CWLI) is a nonprofit, nonpartisan membership organization providing opportunities for women to increase their leadership capabilities through educational series, inspirational programs, and opportunities to associate with a diverse group of women leaders. To join or learn more, please visit www.cwli.org or call 423-394-8173.