Double, Double, Toil and Trouble: The History of Witchcraft and Demonic Women in Literature, Media, and Culture
October 15, 2018 | | Internal Press Release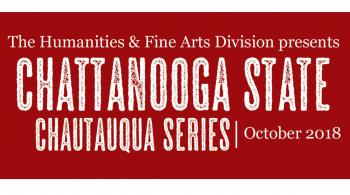 The Humanities and Fine Arts Division of Chattanooga State Community College will host the second lecture of its Chautauqua Lecture Series on Thursday, October 18 at 2 p.m. in the Humanities Auditorium on Chattanooga State's main campus.
In 1874, people gathered on the shores of Chautauqua Lake in New York State to enjoy speakers, teachers, musicians, and specialists who entertained and educated members of the community, thus catalyzing an adult education movement that subsequently spread throughout rural America. Since 2014, Chattanooga State has hosted its own monthly Chautauqua to unite faculty, students, staff, and the larger Chattanooga community in exploring a wide array of topics within the Humanities. This year, Chattanooga State's Chautauqua Series features the informative and unique research of seven Humanities & Fine Arts faculty as well as the series finale with Writers@Work 2018-2019 visiting authors Beth Ann Fennelly and Tom Franklin. 
This month's Chautauqua lecture takes its cue from the spooky month of October and will feature a topic and refreshments inspired by the spirit of Halloween. Assistant Professor Mindy Griffin and Director of the Andrews Writing Center Mollee Shannon will present "Double, Double, Toil and Trouble: The History of Witchcraft and Demonic Women in Literature, Media, and Culture." Throughout history, witches and witchcraft have surfaced in almost every generation's cultural icons. Join Griffin and Shannon as they ask: Why witches? What characteristic of these hellish creatures continues to command cultural relevance through centuries of social change? 
Griffin's interest in witches dates back to graduate school, where she focused on the connection between women and weather in Shakespeare's works, and where the Weird Sisters of Macbeth first piqued her interest in the topic. Since then, Griffin has extensively researched the Salem Witch Trials. Both Griffin and Shannon see their joint presentation as an opportunity to show that the history of witchcraft and demonic women "has less to do with the veracity of witchcraft itself," and more to do with "how the belief of the existence of witchcraft and its subsequent persecution reflects our ever-changing cultural fears and anxieties."
Following Griffin and Shannon's October lecture, four other ChattState faculty will present lectures in their field of study. The final installment in the 2018-2019 Chautauqua Lecture Series will be a special event offered in partnership with the Humanities Department's Writers@Work program, entitled "Writers@Work: The Art and Craft of Writing." During this session, the 2018-19 Writers@Work visiting authors, Beth Ann Fennelly and Tom Franklin, will discuss their writing process, their collaboration on the novel The Tilted World, and the art and craft of writing. 
WHEN: 2-3 p.m., October 18, November 15, February 21, March 21, and April 11.
WHERE: Humanities Auditorium, Chattanooga State Main Campus, 4501 Amnicola Highway.
COST: Free to all members of the public.
FOR MORE INFORMATION: Facebook: "Chattanooga State's Chautauqua Series"; Instagram: "chautauqua_series"; Twitter: "@ChautauquaSeries"; Email: keri.lamb@chattanoogastate.edu.
By Keri Lamb, Chattanooga State