ChattState's Respiratory Care Program Aids Area in COVID-19 Fight
March 27, 2020 | Betty A. Proctor | Internal Press Release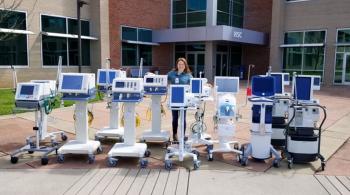 While Dr. Mark Knutsen, Dean of Nursing and Allied Health, was brainstorming with his team about how to help support the local community in the fight against COVID-19, the idea of loaning ventilators from Chattanooga State Community College came to mind, and within a few short hours, details were being confirmed.
"I contacted the area sales representatives of the ventilator companies asking for permission to allow local hospitals to use our ventilators, which they approved," states Katie Davidson, Respiratory Care Program director. "Since we are an educational institution we get a substantial discount on the equipment with the agreement that that equipment would not be used on real patients. This is to prevent an educational institution from profiting from the purchase," she explains.
Davidson had already been in contact with Terry Ellis, director of Respiratory Care at Erlanger Health Systems. Ellis also happens to be on the program advisory board and familiar with Chattanooga State's equipment. "The majority of our graduates start their careers at Erlanger," shares Davidson.
Following inventory preparations for the equipment loan, the Erlanger Respiratory Care team picked it up yesterday. The equipment being loaned out included eight ventilators and four non-invasive devices (hospital grade BiPAP and CPAP).
Because this equipment will be used on patients, "Erlanger's BioMedical director will be responsible for ensuring all of the equipment that we loan out is properly PM checked (preventative & maintenance) prior to placing it on any patient," notes Davidson.
The Commission on Accreditation for Respiratory Care (CoARC), Chattanooga State's Respiratory Care accreditation agency, notes that Chattanooga State has the oldest Associate of Applied Science program in the nation. It continually ranks in the top 10 nationally and recently received an award for "Distinguished Registered Respiratory Therapist Credentialing Success" from CoARC.