ChattState Registered Nursing Program is One of Tennessee's Best Again
April 8, 2020 | Betty A. Proctor | Internal Press Release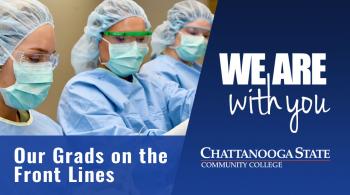 RegisteredNursing.org, a nursing advocacy organization, has ranked Chattanooga State Community College's RN Program as one of Tennessee's best registered nursing programs. Of 44 Tennessee schools analyzed in 2020, Chattanooga State ranked #5, making the top five for a second year in a row.
The organization states that there are 15 Tennessee community colleges and vocational schools that offer associate degrees in nursing. Once the student graduates, he or she is eligible to take the NCLEX-RN exam, which must be passed to become licensed by the State. At Chattanooga State, statistics for the first-time pass rate increased to 97% in 2018, from 96.5% in 2017.
"Nursing programs were assessed on several factors which represent how well a program supports students towards licensure and beyond. We analyzed past and present first time NCLEX-RN 'pass rates' – weighted by year," according to Sally Worthington of RegisteredNursing.org.
Chattanooga State is well known for its outstanding Registered Nursing program and the high quality of its graduates.
During this global pandemic, Dr. Martina Harris, Assistant Dean of Nursing & Allied Health and Registered Nursing Program Director, reflects on this record of nursing education success with gratitude: "I am extremely thankful for Chattanooga State's nursing graduates and the quality nursing faculty who make this success possible year after year," shared Harris. "To every nurse, nursing student, and nurse educator who is serving on the front lines of this pandemic, we thank you. You make us so proud of our profession."
Dr. Harris is currently serving on the COVID-19 Joint Task Force to help coordinate the City and County's response to the COVID-19 outbreak.
Applications for the Registered Nursing day class program in fall 2020 are now being accepted. For more information see https://www.chattanoogastate.edu/nursing-rn-aas-day-and-night-programs-b.... The night program begins its new cohort class in fall 2021.