ChattState Hosts First Annual Girl Scouts STEM Day
December 11, 2018 | | Internal Press Release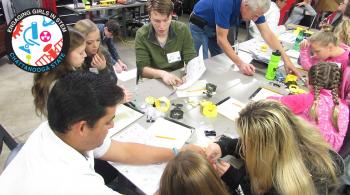 Chattanooga State Community College recently hosted its first annual Girl Scouts STEM Day for middle and high school girls on the main campus. Thirty-eight Girl Scouts participated in eight, two-hour workshops. This free event provided opportunities for scouts to learn about CAD, robotics, nuclear science, website design, chemical engineering technology, coding, 3D printing, and computer technicians. 
Girl Scouts received a specially designed Chattanooga State Community College patch for their participation. Additional patches were earned for participation in Nuclear Science (sponsored by RC-Net) and Chemical Engineering (sponsored by BASF) workshops. The event was sponsored by DC Blox, TVA, Chattanooga State Community College, and CHAtech. Dr. Tremaine Powell, Dean of Engineering & Information Technologies (E&IT), welcomed the girls and their parents, volunteers, faculty, and staff. Becky Lunsford, community relations manager for Girl Scouts of the Southern Appalachians, recruited girls for the event. 
These workshops provided exposure to STEM careers with hands-on activities. In the web design workshop, girls learned basic HTML and CSS. Each participant created a one-page website consisting of multiple images on a topic of their choosing. 
In the robotics session, girls learned how two robots were programmed and operated. Next, they teamed up in pairs to build a line tracking robot. A car race powered by carbon dioxide demonstrated chemical engineering technology. 
In the coding workshop, students learned about basic computer logic and programmed using Python Language. They also were able to view a demonstration of a VEX cortex robot, Ozobot, and code made with Google using Blockly language. 
In the 3D printer lab, girls learned about 3D printing and received a special 3D printed badge. In the AutoCAD workshop, Celtic knot-style drawing was designed. 
In the nuclear science workshop, radioactive decay was simulated by building cloud chambers to see how various forms of radiation travel through matter. Girls also learned safe laboratory practices in the handling of dry ice and the importance of eye protection. In the computer technician workshop, basic components of a computer were discussed and students built a virtual computer.
Approximately 40 TN Promise student volunteers helped with the event by providing support in labs and the cafeteria while earning eight community service hours in the process. "It was fun, informative, and I would recommend that others volunteer," said Brendan Hilton. Volunteers enjoyed the educational opportunities almost as much as the students. "I enjoyed helping the students with the seminars as well as learning something myself," stated Jackson Antinore, while Corbin Reinhard said, "I really enjoyed it and learned a lot." Recognizing the importance of STEM programs, Sam Zhang felt that it offered interactive, educational programs providing girls with the initiative to get involved in STEM. Besides being a great volunteer opportunity, Hayley McNeal called it a great, eventful day. "I think it went smoothly and I made friends with several of the Girl Scouts," she added.
Classes were conducted by Chattanooga State Community College faculty and staff members and community business partners that included Crystal Smith, Jerry Roberts, Lisa Miller, Samantha Travis, Jeremy Burchfield, Ashley Thompson (BASF staff), Savitha Pinnepalli, Justin Joshuva, Randy Ricketson, Jill Wentworth, Lance Narramore, and Lynda Pickett. 
The Girl Scouts STEM day was organized by Savitha Pinnepalli, Computer Information Technology department head and Lyn Potter, E&IT department head. Contact Savitha Pinnepalli at Savitha.pinnepalli@chattanoogastate.eduor call 423-697-4756 for more information.