ChattState Dayton Site Advisory Board Meets
August 11, 2021 | Betty A. Proctor | Internal Press Release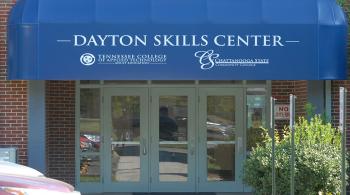 Members of the Chattanooga State Dayton Site Advisory Board recently met last week to learn more about Chattanooga State's upcoming plans. Welcomed by Jerry Hendrix, Dayton Site director, the morning tipped off with a virtual presentation by Bo Drake, vice president for Chattanooga State's Economic and Workforce Development (EWD). "We would like to support the growth of work-based learning programs, youth and adult apprenticeships as well as short-term training tied to nationally recognized credentials," said Mr. Drake. Apprenticeship programs are unique, flexible instruction programs that combine job-related courses with structured on-the-job learning experiences that provide powerful "earn while you learn" solutions to local economic workforce development demands.
David Burgess, Tennessee College of Applied Technology (TCAT) industrial processes department head at the main campus, as well as the Dayton and Kimball Sites, introduced Martin "Marty" Denton, the new industrial maintenance mechatronics instructor for the Chattanooga State Dayton program located at Nokian Tyres. With more 41 years of experience in this field, Marty was excited when TCAT called to offer him the job and noted that industrial maintenance has a place in every business. With a strong conviction to serve students he said, "If we're not teaching what students need to know, then we're not teaching them."
Chattanooga State premieres its 7-week term on August 16. Dr. Beth Norton, vice president of Academic Affairs announced that approximately 50% of courses scheduled this fall had been converted to the 7-week format. "Studies have shown that students are able to better focus on classes using this successful format that helps to build their confidence," stated Dr. Norton.
With an entire suite of programs from high school to college to the workforce, the mission of Tennessee Achieves is to increase higher education opportunities for Tennessee high school students by providing last-dollar scholarships with mentor guidance. Ben Sterling, senior director of content at tnAchieves, stressed the importance of making each county feel singularly important when building relationships. Now in the sixth cohort, Rhea County boasts a 94.4% application rate by district, making 2021 its best application year since Tennessee Promise began in 2015. Noting this accomplishment, "If we can help get students through their first year, they are so much more likely to continue," said Mr. Sterling.
In addition, community members interested in supporting tnAchieves students achieve their goals can become a tnAchieves mentor by completing an application at tnAchieves.org/mentors. Mentors spend less than one hour per month ensuring that students have a local support system through the college-going process. Mentors must be 21+ years old and will be subject to a background check.
"Tennessee Reconnect has provided educational opportunities to 1,488 Chattanooga State students over the past year and 49 of those students reside in Rhea County," said Marsha Barker, director of Adult Services and ChattState's TN Reconnect coordinator. Many adult students put off college after they graduate high school or go to work only to find their career options are limited without some sort of technical training or higher education. Ms. Barker said, "People often mistakenly think that Tennessee Reconnect is only for adults age 24 or older, but in reality, if they are under age 24 and can be considered independent on the FAFSA, they can be eligible for Tennessee Reconnect." Now is the perfect time to begin planning for your future by attending a Chattanooga State TN Reconnect information session at the Dayton site on Thursday, August 26 from 11 a.m. to 2 p.m.
Chattanooga State classes begin August 16. For more information visit chattanoogastate.edu or stop by the Dayton Site at 200 4th Avenue for assistance.