Chattanooga State's Second 7-Week Term Starts March 15
February 18, 2021 | Betty A. Proctor | Internal Press Release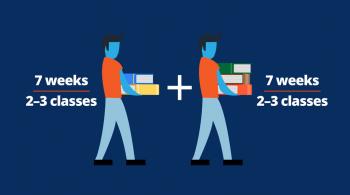 Building onto the success of Chattanooga State's 7-week term format this spring, Chattanooga State Community College is now enrolling for the second 7-week term that begins March 15 and ends May 6. So far, 551 students, almost 10% of currently enrolled students, have chosen the more focused learning option.
Enrolling in a 7-week term provides students with several benefits, including:
Focus on only 2-to-3 classes per term.
Shorter terms help students stay motivated.
Shorter terms help students learn time management skills while focusing on only 2-to-3 classes.
Finish two or three classes in 7-weeks then take two or three classes the next 7-week period.
Over a period of 15-weeks, four to five courses have been completed!
"Chattanooga State Community College faculty are working to expand the College's 7-week class offerings because they understand, what higher education research supports, that more students succeed in shorter-term classes," states Dr. Beth Norton, vice president of Academic Affairs. "Students and faculty are able to focus on fewer classes at a time, which enables the student to experience the sense of accomplishment when they complete the class. Also, if a student does drop out for some reason, they will not fall as far behind by dropping two-to-three classes versus the typical four or five classes in the 15-week semester model." 
Students may enroll now for the second term. Seven-week classes may help students to choose classes that better suit their life schedule.  
Eligible students using Tennessee Promise, Tennessee Reconnect, or Reconnect to the Workforce can choose any of these options to help make their classes tuition-free.
To view available classes and to register for the March 15 term, visit chattanoogastate.edu/7weekclasses.