Chattanooga State's Radiologic Technology Class of 2020 Earns 100% First-Time Pass Rate
March 1, 2021 | Betty A. Proctor | Internal Press Release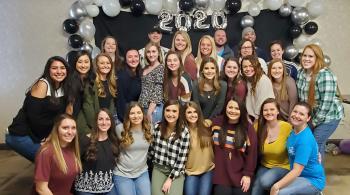 Chattanooga State Community College is proud to announce that the Radiologic Technology Class of 2020 earned a 100% first-time national pass rate on their licensure exams. The Primary Exam Report published by the American Registry of Radiologist Technologists (ARRT), revealed that Chattanooga State graduates rank in the 96th percentile nationally with a mean score seven points above the national average and six points above the Tennessee average. Additionally, six students ranked in the 100th percentile garnering the highest scores out of 10,849 candidates nationally.
"Chattanooga State's Radiologic Technology Program faculty do an outstanding job preparing our students to enter this high-demand career," stated Dr. Rebecca Ashford, Chattanooga State president. "Our 100% first time pass rate surpasses the national and state level first-time pass rates on the licensure exam, which is a testament to the quality of this program."
More than 330,000 technologists hold ARRT credentials, which verifies that the individual has met rigorous professional standards. "The fact that 100% of our students passed the exam in the middle of a pandemic is even more impressive. I am so very proud of our students and faculty," added Dr. Ashford.
"These licensure exam scores exemplify the high-caliber performance we have come to expect from Chattanooga State students, and I am proud to welcome them into the radiologic technology profession," said Stacey Carter, Chattanooga State Radiologic Technology director.
The Class of 2020 includes Olivia Bautista, Brandon Callanan, Alexandria Chapman, Josh Chouinard, Madison Dodd, Emily Downs, Brooke Ellis, Courtney Filyaw, Matt Goatley, Valeria Grimaldo, Ashley Hale, Heather Hall, Alyssa Hallam, Lexie Heatherly, Bethany Hummer, Bethany Jones, Hannah Lawson, Cortney Lewis, Jessica McMahan, Amanda Pippin, Sarah Quarternik, Caitlin Reel, Kaitlyn Richardson, Caitlin Rogers, Kierston Solomon, Lauren Vaughn, and Paige Walton.
The quality of Chattanooga State's Radiologic Technology Program is widely known, so when Sarah Quarternik heard about the program from a colleague in Missouri, she moved to Tennessee to pursue the top tier program. "Not only did the program prepare me educationally, but I was prepared clinically as well," shared Sarah. "It raised my confidence in the skills I had gained and made me feel more than prepared for the registry exam and my future career." Ms. Quarternik says the Chattanooga State program is the "opportunity of a lifetime" and credits it with molding her into the technologist she is today.
For more information about Chattanooga State's outstanding Radiologic Technology program, call (423) 697-4450 or visit chattanoogastate.edu/radiologic-technology. Interested students must plan to attend a virtual information session via Zoom at 5 p.m. on March 18 at this link:  https://bit.ly/2O2JMsw prior to the April, 15, 2021 program application deadline.