Chattanooga State's Julius Dodds Named to CTLI Cohort
August 27, 2020 | Betty A. Proctor | Internal Press Release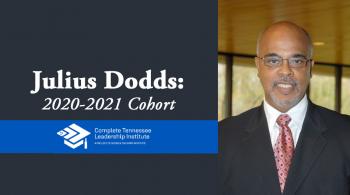 The State Collaborative On Reforming Education (SCORE) recently named Chattanooga State's Julius Dodds as one of 30 participants to its Complete Tennessee Leadership Institute (CTLI) cohort for the 2020-2021 year. Participants chosen for this cohort bring varied expertise and perspectives to the program. Dodds, director of Academic Retention, has been with Chattanooga State since 2008.
Data from the Center for Economic Research in Tennessee show that by 2025 at least half of the jobs in Tennessee will require some type of postsecondary credential. Since 2016, CTLI has created a space where leaders from across Tennessee collectively focus on eliminating barriers to postsecondary education and completion.
The mission of CTLI is to ensure that all Tennesseans have equitable access to a high-quality postsecondary opportunity and the supports necessary for completion while building community advocates and promoting local ownership to increase completion rates for higher education in the state.
Dodds is excited about the opportunity to collaborate with other educational partners who have a vested interest in the success of students in Tennessee. "I believe that my participation in this educational reform effort will foster new relationships with community stakeholders and provide a platform where I will be able to tell the Chattanooga State story and gather additional support to accomplish our mission," explains Mr. Dodds. 
"Julius has been instrumental in the implementing many of the student success initiatives at Chattanooga State," says Dr. Rebecca Ashford, Chattanooga State president. "I am so very pleased that he will participate in the Complete Tennessee Leadership Institute so that he can collaborate with other leaders from education, the non-profit sector, and business and industry about how to continue to improve college student success."
Presenting a unified and coordinated approach to education, SCORE believes all Tennessee students deserve success in college, career, and life, and measures success by the academic growth and achievement of Tennessee's students. "I believe that it is my obligation and responsibility to this community to build pathways for all current and future students so they can become citizens of higher education and productive members of our society," shares Mr. Dodds.