Chattanooga State's Harmon Named a 2021 New Century Transfer Scholar
May 21, 2021 | Betty A. Proctor | Internal Press Release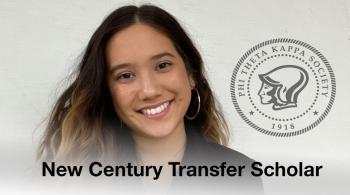 Chattanooga State Community College is proud to announce that Leanna Harmon, a Phi Theta Kappa Honor Society member (PTK), has been named a 2021 New Century Transfer Scholar and will receive a $2,250 scholarship. Achieving the highest score in Tennessee during the All-USA Academic Team competition, Leanna earned the right to represent the state of Tennessee based on academic achievement, leadership, service, and other significant accomplishments.
Ms. Harmon, an Early College Collegiate High student and Global Scholar, is no stranger to the winner's circle. Last April, Leanna was installed as PTK regional president at age 16, in addition to serving as PTK chapter president for the 2019-2020 year. During that time the chapter was awarded a Chapter of Light Award for its achievements and reached Five-Star Chapter status, which was repeated during the 2020-2021 year.
"We at Chattanooga State are incredibly proud of Ms. Harmon's accomplishments both as a student and as a Phi Theta Kappa leader," stated Dr. Rebecca Ashford, Chattanooga State president. "She has gone above and beyond to serve PTK, and her experience will help her to be a skilled leader as she goes through her life journey."
Leanna plans to attend the University of Tennessee Knoxville this fall pursuing a Bachelor of Science degree in business administration with a major in economics and an international business concentration while minoring in Chinese. Following graduation last week, Ms. Harmon reflected about her experiences in PTK. "Fellowship is, by far, the best part of being a PTK member," stated Leanna. "I have formed lifelong connections with people all over the state of Tennessee and even beyond that to other parts of the world … PTK has shaped me into a wiser scholar, stronger leader, and kinder friend."
The New Century Transfer Scholars program is sponsored by The Coca-Cola Foundation, the Coca-Cola Scholars Foundation, Phi Theta Kappa, and the American Association of Community Colleges (AACC). For more information about Phi Theta Kappa at Chattanooga State, visit chattanoogastate.edu/phi-theta-kappa.