Chattanooga State's Gary Satin Awarded Prestigious Jack Kent Cooke Transfer Scholarship
April 24, 2020 | Betty A. Proctor | Internal Press Release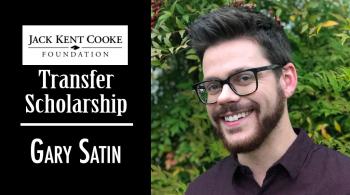 Gary Satin, a student at Chattanooga State Community College, has been selected as one of 50 recipients of the Jack Kent Cooke Foundation's (JKCF) prestigious Undergraduate Transfer Scholarship. This generous scholarship will provide him with up to $40,000 per year over the next three years to complete his bachelor's degree at a college of his choice. Scholars will additionally receive opportunities for internships, study abroad, and graduate school funding, as well as connection to a thriving network of over 2,700 fellow Cooke Scholars and alumni.
As a student in Chattanooga State's Global Scholars Honors Program and a Tennessee Reconnect Scholarship recipient, Mr. Satin is also a Chattanooga State Foundation First in the Family Scholar. He will graduate this year with an associate of science degree in pre-health. With the goal of becoming a neurosurgeon, Gary's dream is to help find a cure for Alzheimer's Disease.
After realizing what this scholarship will mean to his future, Gary felt like a huge financial weight had been lifted from his shoulders. "This life-changing opportunity will allow me to put all my focus into my education so I can eventually help serve others in ways that seemed unimaginable before," expressed Mr. Satin.
"This accomplishment is a testament, not only of Gary's academic aptitude but also his personal character and desire to serve others," noted Amanda Bennett, Global Scholars director. "Having had the privilege of observing these qualities over the past few years, I'm delighted that others have taken note of this remarkable young man."
"Gary is the first Chattanooga State student to receive this prestigious honor. We are so proud of him and know that he will use this honor to make our world a better place," predicted Dr. Rebecca Ashford, Chattanooga State president. "I look forward to watching Gary's future unfold."
Nearly 1,500 students from 311 community colleges, representing 45 states and the District of Columbia, applied for the 2020 scholarship. JKCF recipients pursue acceptance at some of the nation's most selective universities and colleges. Because of Mr. Satin's interest in research, he has applied to Cornell, ETSU, Harvard, Johns Hopkins, Princeton, Stanford, Swarthmore, Vanderbilt, and Yale.
The JKC Foundation evaluated each submission based on students' academic ability and achievement, financial need, persistence, leadership, and service to others. "We know this is a very uncertain time for many students and their families. We remain deeply committed to supporting high-achieving community college students to ensure they have the resources to reach their full academic potential," said Seppy Basili, Jack Kent Cooke Foundation executive director.