Chattanooga State's Caleb Grimes Awarded ChaTech Scholarship
December 22, 2020 | Betty A. Proctor | Internal Press Release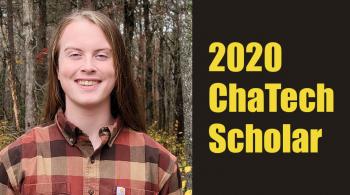 Chattanooga State's Caleb Grimes was recently awarded a $1,000 scholarship and named a 2020 ChaTech Scholar through the Chattanooga Technology Council (ChaTech). Grimes is a 2018 graduate of Grundy County High School, a Tennessee Promise recipient, and currently a Chattanooga State Cyber Defense program student on track to graduate in May 2021.
Caleb's interest in computers began during his freshman year in high school when he built a computer to play games with friends. "Learning the basic functions of a desktop computer was fun and interesting for me since I didn't have a clear (career) path laid out for me," recalls Mr. Grimes. "After building one, it piqued my interest." Using what he had already learned to repair and update computers for area residents, he became aware of the many people who were lured into downloading fraudulent software and other viruses. "That's when it clicked for me," he said. "Once I realized that there was a specific job field that dealt with computer viruses and information, I was sold."
In high school, Caleb participated in a cyber security competition as a member of Future Business Leaders of America (FBLA) winning first place at the regional contest and second place at the state level, before moving on to the national level competition in Maryland, where he did not place, but said, "I was elated. Going on a stage in front of hundreds of my peers and being recognized for my hard work was a wonderful feeling that I'll never forget."
Now that Mr. Grimes has discovered his passion and prepares to finish up his final semester at Chattanooga State, his immediate goal is to find an entry-level job in cyber security or information assurance. Graduates of Chattanooga State's Cyber Defense program can anticipate an entry-level salary of more than $60K when seeking career opportunities as specialists in information, operating, applications systems and information assurance security. According to the Bureau of Labor Statistics, opportunities in this field will grow more 30% between 2019-2029, much faster than average for all occupations.
Savitha Pinnepalli, Chattanooga State's Computer Information Technology department head, describes Caleb as an enthusiastic student. "He is a team player with great leadership skills," she added.