Chattanooga State Volleyball Named Region VII Runner-Up, Lenoir Named Coach of the Year
April 28, 2021 | Betty A. Proctor | Internal Press Release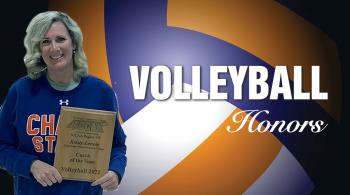 Chattanooga State's women's volleyball team ended their 2020-2021 season as Region VII runner-up while also receiving both player and coaching honors. Players named to the all-region team included #21 Hannah Dutton, libero and #22 Sydney Pittman, middle blocker. Both women are completing their freshman year at Chattanooga State. In addition, first-year coach Kristy Lenoir was named 2021 Coach of the Year by the TCCAA Athletic Association, NJCCA Region VII.
After a slow start at 1-5 the Lady Tigers fought back with a vengeance finishing the second half of the season at 5-3. "Those three losses were against a tough Walters State team who ranks #10 in the country in our division," said Kristy Lenoir, Lady Tiger head coach.
Initially delayed by restrictions imposed by COVID, the team also suffered player injuries. "At one point we played a couple of matches with only seven girls," recalled Lenoir. "I feel like we accomplished a lot this season, considering the circumstances."
Coach Lenoir praised the entire team for their perseverance and hard work. "I am really proud of the character my girls showed to make such a big turn-around and I'm looking forward to great things from them this fall," she stated.