Chattanooga State Tennessee Reconnect Graduate Realizes Purpose
August 31, 2021 | Betty A. Proctor | Internal Press Release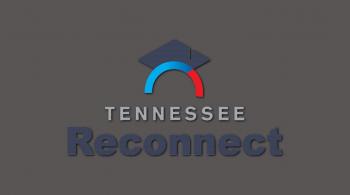 You've heard the stories about why adult students put off going to college. You've also heard their fears about coming back; however, those fears have been transformed into success stories thanks to the Tennessee Reconnect grant. Once accepted into Chattanooga State's Tennessee Reconnect program, the support is non-stop and enrolled students have found a renewed insight and perspective about education, tuition-free.
Kristy Strawbridge could be you. A high school dropout, she got her GED just to "get by" and move forward as a young adult. Fifteen years later, the thought of furthering her education began to occupy Kristy's mind but, "It wasn't even my forte and naively I didn't believe it would help me anyway," she said.
That persistent thought about education was strong enough to lead her to Chattanooga State's Tennessee Reconnect program where Kristy realized her life's goal was through social work. Within two years, she received her Associate of Science degree with a concentration in social work and started work on her bachelor's degree at Dalton State College this fall.
Chattanooga State's Marsha Barker, director of Adult Services, offers information sessions about Tennessee Reconnect every month. If education is in your mind as well, start planning for the spring 2022 semester now. Register for a free session at chattanoogastate.edu/tnreconnect or call (423) 697-3346 with any questions you have.
Thursdays, Sept. 2, 16, 23, or 30 @ 5:30 pm via Webex; OR Sept. 9 @ 1 pm, in-person, IMC-124
Saturdays, Sept. 11, 18, or 25 @ 10 am via Webex
Mondays, Sept. 13, 20, or 27 @ 1 pm, in-person, IMC-124; OR Sept. 13, 20, or 27 @ 5:30 pm via Webex