Chattanooga State TCAT Students Earn 17 Medals at State SkillsUSA Competition
May 3, 2021 | Betty A. Proctor | Internal Press Release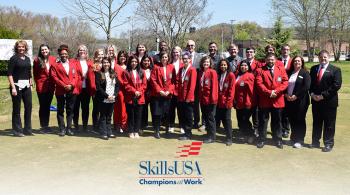 The Tennessee College of Applied Technology (TCAT) at Chattanooga State Community College recently returned from the state SkillsUSA competition with a total of 17 medals resulting in 11 gold, four silver, and two bronze. "Our students performed well with 17 of 22 contestants winning medals," announced Dr. Jim Barrott, executive vice president, TCAT. The 11 gold medal winners will move up to compete in the SkillsUSA national conference in June.
Gold Medalists:
Career Pathways Showcase, Human Services – Rebekah Bailey, Chattanooga; Elisabeth Dupee, Hixson; Lydia Lehman, East Ridge.
Esthetics - Silvia Reynoso and Ashanti Miles, Chattanooga.
Extemporaneous Speaking – Hayley Williams, Chattanooga.
Industrial Motor Control – Johnathan Whitford, Chattanooga.
Information Technology Services – Nicholas Saul, Hixson.
Marine Service Technology – Alyssa Anderssen, Chattanooga.
Medical Assisting – Robyn Wyatt, Hixson.
Welding Sculpture – Kristina Key, Chattanooga.
Silver Medalists:
Marine Service Technology - Aaliyah Hickey, Cleveland.
Medical Math – Haleigh Fogtman, Ooltewah.
Motorcycle Service Technology – Caleb McAtee, Rocky Face, GA.
Power Equipment Technology – Tanner Peels, Chattanooga.
Bronze Medalists:
Nail Care – Justice Harvey, Chattanooga.
Welding Sculpture – Alyssa Rogers, Signal Mountain.
TCAT faculty advising this year's medalists included Elonia James, Cynthia Rutledge, Robert Martin, Rex Weeks, Mike Mercer, Ed Grun, Gregory Henderson, Tina Hilinski, and Zack Castroverde.
"We recognize the faculty advisers for their dedicated work with these students," commented Dr. Barrott. "They provided kind guidance and motivation that gave our students the edge to perform well."
SkillsUSA is a partnership of students, teachers and industry working together to ensure that America has a skilled workforce and boasts an impressive 390,000 student and instructor members worldwide with 7,000 members in Tennessee. The 2021 theme, Champions at Work, Empowered to Succeed, is tailored perfectly to describe the Chattanooga TCAT SkillsUSA chapter.
For more information about Chattanooga State's outstanding TCAT programs or becoming involved in SkillsUSA, call (423) 697-4433 or visit chattanoogastate.edu/tcat.