Chattanooga State TCAT & Sequoyah High School Celebrate National Signing Day
May 27, 2021 | Betty A. Proctor | Internal Press Release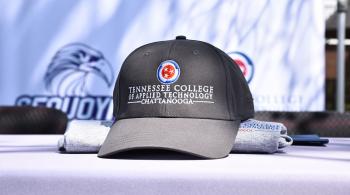 The Tennessee College of Applied Technology (TCAT) at Chattanooga State Community College recently celebrated Sequoyah High School's first National Signing Day with sixteen students who have committed to Chattanooga State TCAT for the 2021-2022 academic year, preparing themselves for a successful career in 12 months or less. Students who commit to a technical program during National Signing Day are assured of enrollment into the program of their choice.
Principal Amy Myhan welcomed students, parents, and guests to the school's first National CTE Letter of Intent Signing Day at Sequoyah High School (SHS). Ms. Myhan opened the ceremony by providing an overview of a pilot program that began two years ago as a partnership with Chattanooga State allowing high school juniors to earn TCAT Dual Enrollment credits. Eleven of the 16 students graduated from SHS with two-thirds of the hours needed for their TCAT program, just 390 hours shy of earning their TCAT diploma. These students (noted with an asterisk below) began classes at Chattanooga State TCAT on May 10 and will graduate in August.
"When other kids are just starting college in the fall, these 11 students will be done and they'll be starting a new career in which they have invested time and interest," stated Ms. Myhan. "It's such an advantage for them and provides such opportunity."
Executive Vice President of Technical College Dr. Jim Barrott recognized Principal Myhan, Hamilton County Schools Superintendent Dr. Bryan Johnson, Jimmy Jones, department head, and Carl Miller, coordinator, TCAT Dual Enrollment, for their support of the program. As the second largest TCAT in the state of Tennessee, Chattanooga State TCAT offers 28 programs that serve roughly 1,500 students yearly. "Our world revolves around technical people and everywhere you go in our community, we need people who are working in the programs that we have in our TCAT," said Dr. Barrott. The Sequoyah-TCAT pilot program was so successful that other school systems in Tennessee are looking at what we're doing here. Because of this success, Dr. Barrott stated that it is the intent to establish a fully functioning TCAT at Sequoyah High School within the next three-to-five years.
Sequoyah High School students celebrating National Signing Day include:
Cosmetology: Erika Sailors*, Chloe Shaffer*
Diesel Equipment Technology: Collin Huff, Eyob Legg, Anthony Mellott
Landscape & Turf Management: Jamison McGuffee
Machine Tool Technology: Gage Allen*, Austin Bidwell, Colton Crumley*, Gabriel DeHart*, Jackson Gravett*, Lucas Gunner*
Welding Technology: Landyn Aslinger*, Savannah Defur*, Mason Pirtle*, Howard Thacker*
For more information, visit chattanoogastate.edu/tcat or call (423) 697-4433.