Chattanooga State TCAT Programs Offer Solid Careers
December 23, 2020 | Betty A. Proctor | Internal Press Release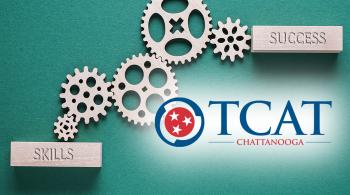 The Tennessee College of Applied Technology (TCAT) provides students with the opportunity to complete one of 21 diploma or          seven certificate programs within one year's time. Maybe you're worried that now may not be the right time to enroll in a technical college program – but you couldn't be more wrong. The State of Tennessee provides today's students with four opportunities to help make your college experience tuition-free.
Tennessee Reconnect: Receive up to five semesters at a community or technical college tuition-free for eligible adults (chattanoogastate.edu/tnreconnect)
Reconnect to Workforce: Tennesseans who receive unemployment benefits can use the Tennessee Reconnect program to earn a college degree, a technical diploma or certificate. Full-time enrollment through Reconnect will fulfill the work search requirement of unemployment benefits. (chattanoogastate.edu/reconnect-workforce)
Tennessee Promise:  A scholarship and mentoring program for graduating high school seniors to earn a college degree, a technical diploma or certificate tuition-free. It covers the cost of tuition and mandatory fees not covered by the Pell grant, HOPE scholarship, or Tennessee Student Assistance Award (TSAA) (chattanoogastate.edu/scholarships/tn-promise-scholarship).
Wilder-Naifeh Technical Skills Grant: Established and funded from the net proceeds of the state lottery and awarded to students who are enrolled at a TCAT. The amount awarded is $2K. (https://bit.ly/2Wnagpx).
Depending upon the program chosen, Chattanooga State TCAT graduates seeking entry-level positions for programs we offer can look forward to a median pay of between $26K to more than $54K according to the U.S. Bureau of Labor Statistics. Chattanooga State TCAT has a number of open programs to pique your interest:
Administrative Office Professionals perform clerical and administrative duties and serve as key players in a professional office setting with a median entry-level salary of $39K to $41K. Careers as insurance, payroll, billing and coding or payable clerks, bookkeepers, accounts receivable, or administrative assistant.
Collision Repair involves repairing, refinishing and replacing automotive bodies, frames, vehicle windshields and window glass to restore damaged vehicles. TCAT alum Breanna Britton discovered her unrealized artistic talents thanks to her high school body shop instructor. Applying for Tennessee Promise as a senior, Breanna's new passion led her to enroll at ChattState TCAT, 200 miles from home, on the advice of her instructor who named the Chattanooga State program as 'the best collision repair program in the state'. Programs graduates can expect a median entry-level salary is $42K.
Computer Support Technicians prepare for entry-level positions in Information Technology, supporting computer systems, mobile devices, and networks in the modern workforce. With a median salary of more than $52K and growth predictions of eight percent through 2029, graduates can start a career as a computer user support, technical support, or information technology specialist, desktop support technician, or help desk analyst.
Landscape and Turf Management students receive technical instruction and develop skills to prepare them for employment in the landscape and turf industry. The program boasts a new 6,000 square foot building that includes a 3,000 square foot greenhouse, classrooms, a computer laboratory, and more. A median entry-level salary range of $31K with a 10% employment growth through 2029 make this career a good choice for outdoor enthusiasts.
Machine Tool Technicians learn all aspects of machining from shop safety, blueprint reading and basic tools of the trade to the operation of precision Computer Numeric Controls (CNC) machines. While training, students have the opportunity to develop their skills on lathes, vertical milling machines, and surface grinders to prepare for a career in manual machining, set-up person, CNC machining and operators, or tool & die makers. These positions offer a median entry-level salary of more than $45K.
Massage Therapy students treat clients by using therapeutic to relaxation modalities to manipulate the muscles and other soft tissues of the body. Massage therapists learn basic anatomy, physiology, pathology, kinesiology, pharmacology, business, self-care, nutrition, hydrotherapy and many other related topics. With a median entry-level salary of more than $42K, the 8-month full-time program boasts a 100% job placement rate with a 21% employment growth rate through 2029. When 2019 graduate Tiffany Hammond was looking for a massage therapy program, she found that the Chattanooga State TCAT program offered an integrated approach to learning. "Not only would the curriculum train and prepare me for graduation, but the hands-on experience and out-of-class events and volunteer work would give me real world experience that I needed to be ready for work," she said.
Medical Assistants complete administrative and clinical tasks in hospitals, physicians' offices, and other healthcare facilities. This high demand field is predicted to grow by 19% through 2029 with a median entry-level salary of more than $34K. Medical assisting is offered as a day program on the Main campus and a night program at the Kimball Site. Timmesia Simmons, a 2020 graduate, used the CCAMPIS Grant (Child Care Access Means Parents In School) that provided childcare tuition assistance for her child and a way for her to complete her diploma. Timmesia was hired by University Surgical Associates immediately following her externship with them, and says, "I enjoyed everything about the medical assisting program and I'm very excited by this opportunity."
Motorcycle/Marine Service Technicians inspect, service, and repair motorized power equipment that includes ATVs, dirt bikes, street bikes, bass boats, pleasure boats, personal watercraft, and cruisers. Technicians must be skilled in many areas of expertise. Classroom and shop learning experiences are focused on basic fundamentals and principles of operation. Students also perform work on client-owned equipment to determine the problem, find the cause, make the correct repair, and communicate in a professional manner. Graduates can expect an entry-level salary of more than $37K in such positions as service technicians, parts and sales, service manager, shop foreman or other fields that utilize combustion engines.
Visit chattanoogastate.edu/tcat to see a complete list of programs.