Chattanooga State Supports Reconnect to Workforce Partnership
November 24, 2020 | Betty A. Proctor | Internal Press Release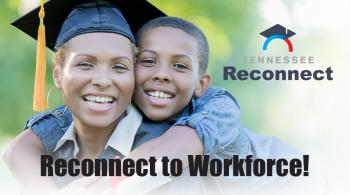 The Reconnect to Workforce Partnership between the Tennessee Reconnect program and the Department of Labor and Workforce Development states that its mission for unemployed Tennesseans will be to focus on education as their job, according to Tennessee Governor Bill Lee.
Chattanooga State's Tennessee Reconnect program has already served more than 2,000 adult students since its premiere in 2018. This fall, more than 900 adults qualified for Tennessee Reconnect and are on their way to a new career with little or no college debt.
Here, Tennessee Reconnect students share their experiences:
"Without the Reconnect Grant, none of this would've been possible. As a single mom, I did not have the extra funds to pay for classes, books, gas back and forth to school, as well as school materials."  – Morgan Devoren, age 24
"Programs like TN Reconnect are critical for providing equal opportunity across all demographics. It is incredibly user friendly. The support and communication can alleviate a lot of the stress of returning to college." – Jeremey Mathis, age 32
"I know that when I graduate, I will have the knowledge to succeed in my career of tourism management. At the moment, I'm unsure whether I want to start my own attraction or advance within a company, but I do know that Chattanooga State and the TN Reconnect program have made it possible for me to achieve these goals." – Natasha Zelsdorf, age 25
With federal unemployment benefits funded by the CARES Act ending soon, now is the time to plan your future. Governor Lee notes with over 250,000 available jobs in Tennessee, the Reconnect to Workforce Partnership will remove barriers so Tennesseans can acquire the skills needed to acquire a high-quality job.
Marsha Barker, Chattanooga State's adult services director, is available to answer your questions about the Tennessee Reconnect program and guide you through the application process. "With the Reconnect to Workforce Partnership, there has never been a better time for unemployed Tennesseans to further their education," states Ms. Barker. "Whether you're a new or returning student, you have an opportunity to receive a college degree, tuition-free. TN Reconnect covers tuition and mandatory fees for up to five years."
Register now for an online Information session to fit your schedule throughout December via Webex at chattanoogastate.edu/tnreconnect or call (423) 697-3346 with questions. Classes begin mid-January.
Wednesdays, December 2, 9 or 16 @ 2:00 p.m.
Thursdays, December 3, 10 or 17 @ 5:30 p.m.
Saturdays, December 5 or 12 @ 11:00 a.m.
Mondays, December 7 or 14 @ 5:30 p.m.
Fridays, December 11 or 18 @ 11:00 a.m.