Chattanooga State Reschedules Dinner of Firsts 10th Anniversary Celebration
September 29, 2021 | Betty A. Proctor | Internal Press Release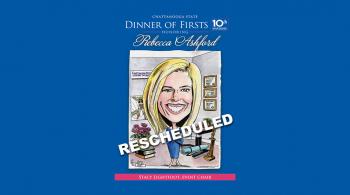 Chattanooga State's Dinner of Firsts 10th Anniversary Celebration, originally scheduled for October 28, has been rescheduled for Thursday, April 21, 2022, at the Chattanooga Convention Center due to the unexpected surge of COVID cases in the area and out of an abundance of caution for the safety and well-being of guests.
The Dinner of Firsts is Chattanooga State's signature "FUNdraising" event with a toast and roast honoring a community leader who is the first in their family to attend college. Jay Dale, market president of First Horizon Bank along with Greg Vital, president and co-founder of Morning Pointe Senior Living serve as presenting sponsors and evening co-hosts.
This tenth annual dinner event will honor the president of Chattanooga State Community College, Rebecca Ashford Ed.D., who is not only a first-generation college student but a community college graduate as well. Stacy Lightfoot is the Event Chair and will also be one of the roasters. Those roasting Rebecca will include Molly Blankenship, Miles Huff, Tom Griscom, Richard O'Neal, and David Wade. David Steele will serve as Master of Ceremonies.
"We are grateful to our generous philanthropic partners who make this annual scholarship benefit possible," said event chair Stacy Lightfoot. "Thank you for understanding the need to reschedule out of an abundance of caution, and we look forward to celebrating this Spring."
Proceeds from the event fund scholarships for first-generation students and are divided equally between the annual First in the Family Scholarship and the Tom Edd Wilson First in the Family Endowed Scholarship.
For more information, please visit chattanoogastate.edu/dof, email Tammy Sawyers at tammy.sawyers@chattanoogastate.edu, or call (423) 697-3359.