Chattanooga State Reminds Students of FAFSA March 1 Deadline
February 12, 2021 | Betty A. Proctor | Internal Press Release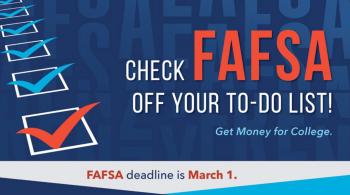 Check FAFSA off your to-do list! With less than two weeks remaining to submit the FAFSA (Free Application for Federal Student Aid) by the March 1, 2021 deadline, the countdown to FAFSA completion is on.
Students may ask what the big push is to complete the FAFSA, and the answer is "to get money for college." All new and continuing students must complete the FAFSA by March 1 to remain eligible for the Tennessee Promise scholarship or by May 15 for the Tennessee Reconnect grant. Students should note that March 1 is called a "priority deadline" and means that applying after March 1 will not mean you won't be eligible for other financial aid, but it does mean that students who have applied by the March 1 deadline will receive first consideration for aid.
There is no cost to apply for the FAFSA. You may think that you won't qualify for financial aid, but how do you know if you don't apply? You might be surprised to learn that one-in-three entering freshmen at Chattanooga State that apply for financial aid are the first in their families to attend college. Are you the first in your family? Chattanooga State's First in the Family Scholarship has provided more than $532,000 in scholarship support for First in the Family scholars since it was established in 2011—these funds are available only to those who fill out the FAFSA.
Whether you are a new student or a continuing one, completing the FAFSA is the first step to securing your educational future.
Besides Tennessee Promise, Academic Service, External, Foundation and Hope scholarships, there are also grants through Tennessee Reconnect, Empowerment, Federal Pell, Federal Supplemental Educational Opportunity, and the Tennessee Student Assistance Award.
Obtaining a college education requires an investment of time and money and filing the FAFSA is your first step. Do. It. Today. Visit fafsa.gov.
Need help? Call (423) 697-4402, email finaid@chattanoogastate.edu or visit chattanoogastate.edu/financial.