Chattanooga State Registered Nursing Program Ranks #4 in Tennessee
June 17, 2019 | | Internal Press Release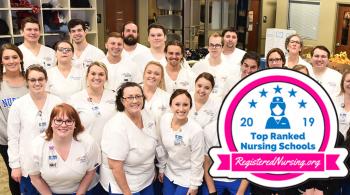 Each year, RegisteredNursing.org, a nursing advocacy organization, releases a list of Best RN Programs. Of 45 schools analyzed, Chattanooga State Community College's RN Program has been ranked #4 in Tennessee.
"Nursing programs were assessed on several factors which represent how well a program supports students towards licensure and beyond. We analyzed past and present first time NCLEX-RN 'pass rates' – weighted by year," according to Sally Worthington of RegisteredNursing.org. The Registered Nursing organization states that nursing is both an art and a science - the art of helping others, harmonized with the science of the human body. They say that it takes a person who doesn't scare easily but who isn't afraid to be scared, someone who is tough but also kind. 
Chattanooga State is well known for its outstanding Registered Nursing program and the high quality of its graduates. "Chattanooga State's nursing program is a model for excellence, as measured by our exceptional pass rates on the NCLEX exam and the quality of nursing faculty associated with our nursing program," said Dr. Martina Harris, Assistant Dean of Nursing & Allied Health and Registered Nursing Program Director.
In 2017, the day graduating class consisted of 108 graduates and the night graduating class with 31, exemplified that success with all 139 graduates passing their NCLEX-RN license exam on their first attempts.  Over a ten-year period, Chattanooga State's nursing graduates have passed on their first attempt at 96.5 percent vs. 90.2 percent statewide and 87.1 percent nationally.
"I am very proud of our nursing graduates, and extremely grateful for the dedicated nursing faculty who work here to help prepare our students to be successful," shared Harris.
Applications for the Registered Nursing program are now being accepted. For more information see https://www.chattanoogastate.edu/nursing-rn-aas-day-and-night-programs-b... call (423) 493-8720.