Chattanooga State Provides Tools for Student Success
November 6, 2020 | Betty A. Proctor | Internal Press Release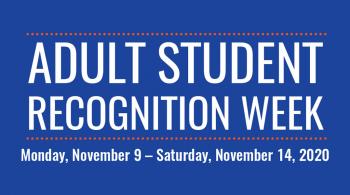 More than 32%, or almost one-third of Chattanooga State's student population, are adults juggling multiple life roles while attending college. When assistance is needed, knowing where to find that information can sometimes present a challenge.
To address that challenge, the CADRE Adult Student Club is sponsoring a Virtual Adult Student Recognition Week from November 9 to 14 with information about programs and services offered at ChattState and providing students with tools to be successful. Prospective students are also encouraged to participate in the event.
Academic divisions and service departments from the College will showcase programs and services to the adult student population. Each day will be devoted to a specific topic. Current and prospective students are invited to discover what Chattanooga State offers to you as a student.
Monday Majors: November 9, 6-7:30 p.m. - Explore various programs of study
Tech Tuesday: November 10, 6-7:30 p.m. - Technology support, online/virtual learning, eLearn, and more
Wired Wednesday: November 11, 6-7:30 p.m. – Student/academic support services such as tutoring, counseling, and more
Thankful Thursday: November 12, 6-7:30 p.m. – A diverse panel of students will talk about life as an adult student and the things they like most about ChattState
Financial Aid Friday: November 13, 10 a.m.-4 p.m. - FAFSA application assistance in the Tiger Express Lab (S-260), followed by a Financial Aid-Tennessee Reconnect information session at 6 p.m. via Webex.
Student Involvement Saturday: November 14, 11-12:30 p.m. – Explore clubs and organizations at ChattState
RSVP to marsha.barker@chattanoogastate.edu or learn more about Adult Student Recognition Week at chattanoogastate.edu/events/adult-student-recognition-week.