Chattanooga State Police Officers Presented with ESGR Patriot Award
May 20, 2021 | Betty A. Proctor | Internal Press Release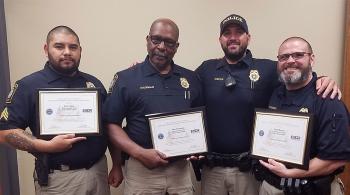 U.S. Army Retired Lieutenant Colonel Chris Cole, representing Employer Support of the Guard and Reserve (ESGR), recently presented Chattanooga State police officers Chief Donald Coleman, Sgt. José Lopez and Sgt. Chad Rogers, with an ESGR Patriot Award.
ESGR is a Department of Defense program established in 1972 to promote cooperation and understanding between Reserve Component Service members and their civilian employers. Patriot Awards are presented to individual supervisors and bosses for support provided directly to the nominating Service member and his or her family.
Matt Agnew, a second-shift police officer at Chattanooga State Community College and a Tennessee Air National Guardsman, nominated his supervisors for the award. The Patriot Award reflects the efforts made to support Service men or women through a wide range of measures including flexible schedules, time off prior to and after deployment, caring for families, and granting leaves of absence if needed.
Because of the tremendous amount of support Officer Agnew received from his three supervisors, Matt was able to perform his military duties without worry about his absence. "As a veteran law enforcement officer, I can say without a doubt I have never had a chief be as supportive of my military service as Chief Coleman," stated Agnew.
Sgt. Rogers is Officer Agnew's immediate supervisor and as a military veteran himself, Rogers understands his situation better than most. "He is very flexible about covering the extra day-to-day duties during my absence," shared Agnew. "We speak frequently when I am gone, and he always asks if there is anything that he can take care of for me while I am away."
Although Sgt. Lopez is the first shift sergeant, he handles all personnel scheduling for the entire department and provided a great deal of flexibility when Matt was on orders or drill status. "Last year when I had my orders extended, he stepped right in and made sure there was coverage without any issues," said a grateful Officer Agnew.
The Chattanooga area is well known for its support of veterans. In 2015, Chattanooga State received a VETS Campus Designation as one of 12 vet-friendly campuses across the state of Tennessee.
"Chattanooga State is committed to supporting veterans of the United States armed forces, and we pride ourselves on being a veteran-friendly campus. This recognition of Chief Coleman, Sgt. Lopez, and Sgt. Rogers by the ESGR makes us very proud," stated Dr. Rebecca Ashford, Chattanooga State president.