Chattanooga State Introduces 30+ Fully Online Programs
January 6, 2020 | Betty A. Proctor | Internal Press Release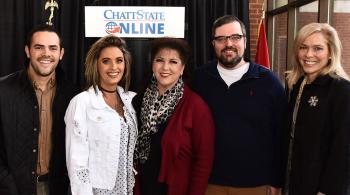 "We now have over 30 degree programs completely available online," announced Chattanooga State President Dr. Rebecca Ashford. Chattanooga State's new initiative, ChattState Online, is designed to provide busy adults with the opportunity to fit a high-quality college education into their lives.
"Flexibility" was the key word used by administrators and current online students when ChattState Online was announced. Many students have put off furthering their education for a variety of reasons, but with ChattState Online, they now have the option to complete an entire degree program anytime and anywhere … on their own schedule.
Adult student director Marsha Barker said that the beauty of ChattState Online is flexibility. "The majority of adult students are juggling multiple responsibilities, such as work, family, and school. Most online courses are accessible 24/7, which allows students to study around their work schedule from anywhere in the world," she said.
Jessica Frost is second year online student studying archeology and anthropology using Tennessee Transfer Pathways. "Online classes are so exciting! It gives me more time at home and more time to enjoy my hiking passion. Recently, I completed my classwork while on a trip to the Smokey's," she said.
"The amount of support I received from teachers and staff, as well as other online students, was overwhelming," shared Lonnie Williams, a second year business major. "I travel in my job and am involved in other outside activities, so it is so important to balance your study/class time with your everyday work/home life. ChattState Online makes that easy by providing assignment due dates from the very first class," he added.
"Online courses can provide real value to working adults because they are flexible, and because of that, it allows students to pursue the career of their dreams at a time and place that is convenient for them," emphasized Barker.
More than 2,000 Chattanooga State students take online classes. Tennessee residents using tuition-free options via TN Promise and TN Reconnect can begin their college career on their own terms knowing that convenience, flexibility, and support await them as a ChattState Online student. Dr. Beth Norton shared that she would not be at Chattanooga State today as the vice president of Academic Affairs had online classes not existed providing the convenience and flexibility she needed as a single mother who was working full-time.
For more information about degree programs offered through ChattState Online, visit chattanoogastate.edu/chattstate-online.