Chattanooga State Introduces 2 New TCAT Programs in Dayton
November 4, 2020 | Betty A. Proctor | Internal Press Release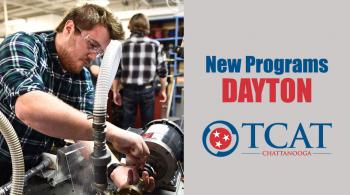 The Bureau of Labor Statistics (BLS) named Tennessee as one of the top ten states for employment of Industrial Maintenance Mechatronics Technicians. Chattanooga State's Tennessee College of Applied Technology (TCAT) offers this program at the main campus, the Kimball Site and will introduce this one-year program to the Dayton schedule beginning spring 2021.
Graduates of the Industrial Maintenance Mechatronics program leave with the ability to install, maintain, and troubleshoot industrial electrical control systems, including programmable logical controls (PLC), automation, robotics, and mechanical systems including hydraulics and pneumatics. This program boasts a 100% job placement rate, a median pay of $52K yearly, and a 10-year job growth outlook of 13%, which is much faster than average according to BLS.
Industrial Electricity, already established at the main campus and the Kimball Site, is also being newly introduced to the Dayton community in spring 2021. According to BLS, employment of electricians is projected to grow eight percent from 2019 to 2029, much faster than the average for all occupations. Median pay exceeds $56K yearly and successful Chattanooga State Industrial Electricity graduates can expect a job placement rate of 100%.
Students who enroll in either program will be attending classes in the Chattanooga State modular building located 0.5 miles from the entrance to the North American Factory in Dayton at Nokian Tyres. The address for the modular building is 320 Greenway Blvd, Dayton. Nokian Tyres chose Dayton for the site of its $360M manufacturing facility in 2017, produced its first test tire in July of 2019, and began production in spring 2020. The company funds scholarships for Rhea County students and is known for its sustainability efforts, recently earning the highly coveted LEED certification.
"We are extremely pleased to bring our high-tech programs to the Dayton area. There is a very high demand for trained maintenance techs and electricians in the region," stated Dr. Jim Barrott, Executive Vice President, Technical College. "We hope to fill these programs to demonstrate the need for a permanent technical education building in Rhea County."
For more information about these programs, visit chattanoogastate.edu/tcat, stop by the Dayton Site at 200 4th Avenue or call (423) 365-5010.