Chattanooga State Hosts Capture the Flag
January 15, 2020 | Betty A. Proctor | Internal Press Release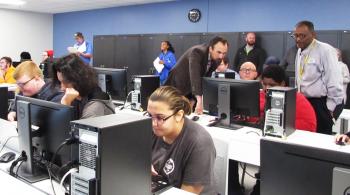 Chattanooga State's Computer Information Technology (CIT) department, in collaboration with The Enterprise Center, recently hosted its first ethical hacking competition, Capture the Flag, in connection with the 8th Mid-Atlantic Gigabit Innovation Collaboratory (MAGIC) on November 9. MAGIC hosts the event twice a year in the spring and fall.
CIT assistant professors Noman Saied and Patrick Ward along with Enterprise Center president Deb Socia to collaborated on the event. The CIT department funded the $500 competition fee and all IT faculty served as coaches for the day, including Dr. Tremaine Powell, dean of the Engineering and Information Technologies Division. The Enterprise Center, which leverages the city's digital technology to create, demonstrate, test, and apply solutions for the 21st century, provided cash prizes to three teams that placed first, second, and third in the region.
Evan Orr and Kenneth Coleman from the Chattanooga State team, "Unknown Unknowns," placed 5th in the overall competition, with 4,594 points, while finishing first in the region and winning a $150 cash prize from The Enterprise Center and EPB.
According to Graham Dodge, executive director of MAGIC, Capture the Flag is a beginner-level cybersecurity competition that presents challenges and puzzles to solve that help students understand some of the techniques that cybersecurity companies would use in what they call penetration testing.
ChattState students competed against 308 registered participants on 88 teams in 20 locations worldwide, including Maryland, Tennessee, Idaho and New Hampshire, as well as Northern Ireland and Estonia.