Chattanooga State Hosting Virtual Career Fair
June 17, 2020 | Betty A. Proctor | Internal Press Release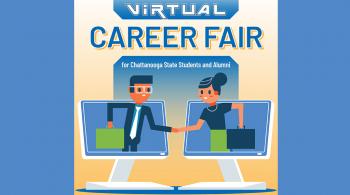 The Career Services Department at Chattanooga State Community College has scheduled a Virtual Career Fair for students and alumni on Tuesday, June 23 from 9 a.m. to 4 p.m. Reservations are required at the College Joblink site – bit.ly/csjoblink. More than 20 businesses are ready to chat virtually about their company and discuss available job opportunities.
Representatives from the following employment sectors this year include information technology (IT), hospitality, nursing, mental health, manufacturing, construction, electronics, nuclear, chemical, electrical, industrial and manufacturing engineering; education, human resources, parks and recreation, sports, tourism, legal services, moving companies, and the media-related areas of advertising, journalism, marketing, public relations, graphic design, television and radio.
The Career Services Center offers the following seven tips to prepare for a virtual career fair 1) Update your resume 2) Research companies 3) Create a calendar reminder about the fair 4) Prepare your introduction 5) Have your paperwork in order and test your internet and video connections 6) Keep organized and 7) Send thank you notes.
Faculty and staff are also welcome to participate in the Virtual Career Fair. Employers welcome the opportunity to connect with faculty and staff to learn more about Chattanooga State programs. To participate in the fair, contact Amenda Coleman at (423) 697-2570 to set up your JOBlink account.