Chattanooga State to Host Rising Chefs Showcase
May 4, 2021 | Betty A. Proctor | Internal Press Release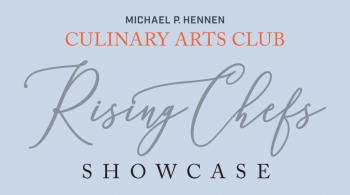 The Rising Chefs Showcase is a fundraising dinner hosted by and benefiting the Michael P. Hennen Culinary Club at Chattanooga State Community College. The special five-course meal will take place on Thursday, May 6 at 6:00 p.m. in the culinary center located in Center for Business, Industry and Health (CBIH) on the main campus, 4501 Amnicola Highway.
Earlier this year, the culinary center received a beautifully transformative addition from friends and partners at The Marriott Springhill Suites Downtown Chattanooga who donated dining room furnishings that provide a wonderfully conducive atmosphere that is sure to be appreciated by guests attending the Rising Chefs Showcase.
Tickets are $55 and seating is limited. Advanced ticket purchase is recommended at https://checkout.square.site/merchant/K46X96C09KQ19/checkout/25EDRUVV7DH5ZBTSYRPWH76U. Guests may enter the college using the West Entrance. Ample parking is available.
The Rising Chefs Showcase provides a chance to highlight the current culinary graduating class. Proceeds from this event will be used to support learning opportunities for Culinary Arts students and the needs of the Michael P. Hennen Hospitality and Culinary Center at Chattanooga State. With the club's mission to promote growth and support, they also seek opportunities to serve one another and our community.
For more information about this event, or to learn more about the Chattanooga State Culinary program, visit chattanoogastate.edu/culinary-arts-concentration or call (423) 697-3340.