Chattanooga State Heavy Equipment Operators Program Slated for Fall
July 12, 2021 | Betty A. Proctor | Internal Press Release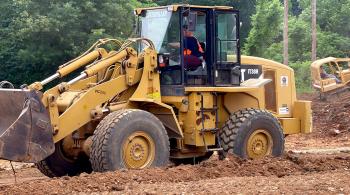 Scheduled for October 4 through November 12, 2021, Chattanooga State's Heavy Equipment Operator Training Program is designed with safety in mind. During this 6-week course, students will use the latest equipment while learning specific OSHA safety standards and manufacturer's requirements. Upon completion of the program, each student will have obtained an NCCER credential and OSHA certification. 
James Gann investigated other programs before deciding that Chattanooga State offered the best Heavy Equipment Operator program in the area. "I recommend this program to anyone interested in the operation of heavy equipment machinery," stated Mr. Gann. "I learned all I needed to know to get started in heavy equipment." Mr. Gann also benefitted from a partnership that Chattanooga State had with the City of Chattanooga following completion of the program and is now employed by the city. "I love my new career and only wish I had done this long ago," said James.
With a projected need for more than 600,000 heavy equipment operators across the United States through December 2022, Chattanooga State's Heavy Equipment Operator Training Program can train you for a great career in only six weeks with a median pay range of almost $50K. Build Your Future (BYF) an organization established by the National Center for Construction Education and Research (NCCER) said that heavy equipment operators rank as one of the five crafts in highest demand.
The American Job Center (AJC) provides individuals with various forms of financial assistance available to them. Many Chattanooga State students enrolled in Economic and Workforce Development programs receive financial assistance that AJC helps students to secure to offset the cost of the program.
Most heavy equipment jobs fall into the categories of construction or maintenance industries. Operators take charge of large pieces of equipment such as bulldozers, front-end loaders, or backhoes to help build or maintain roads, bridges, large structures, and tunnels or pipelines. Because working in various weather conditions is a part of the job, operators usually have genuine love of the outdoors. Other characteristics of a heavy equipment operator include a good sense of balance, being knowledgeable about the equipment with a natural aptitude for operating machines without fear of getting your hands dirty, good hand-eye coordination, patience, and good communication skills.
Today, most companies prefer to hire operators who have received training, such as what the Heavy Equipment Operators Training Program at Chattanooga State offers. For more information about this upcoming program, call Chattanooga State's Economic & Workforce Development Division at (423) 697-3100.