Chattanooga State Fall Semester Underway
August 24, 2020 | Betty A. Proctor | Internal Press Release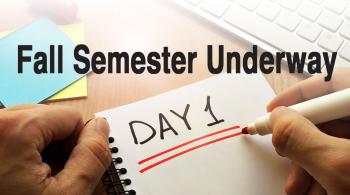 As Chattanooga State Community College welcomed students back to instructional sites in Chattanooga, Dayton and Kimball on August 24, the College remained mindful of its responsibilities to students, faculty and staff by presenting a Modified Campus Plan Overview using a four-phased approach to guide operations during COVID-19.
Currently operating in a Phase 3 COVID Risk Level Yellow, campus access is modified as community spread is monitored and requires moderate containment measures with restrictions in place on gatherings. Should the College remain on-track for containment and experience low community spread, its Risk Level would progress to a Phase 4 Green allowing unlimited campus access. However, should the Risk Level regress to Phase 2 Orange, the campus would have limited access with significant restrictions on gatherings. The most severe Risk Level, a Phase 1 Red rating would mandate restricted campus access and necessitate following local, state, or federal "stay at home" orders to significantly mitigate the spread of COVID.
"While this first day of the fall semester felt very different than any other we have experienced at Chattanooga State, it still has an exciting feel to it," shares Dr. Rebecca Ashford, Chattanooga State president. She notes that faculty are welcoming students back to classrooms and virtually connecting with them, while staff members continue to help students navigate their questions in a virtual environment. "Our Student Life area is also planning virtual 'Welcome Week' events, so while it may be different, it is still a very vibrant learning environment," said Dr. Ashford.
For daily updates on Chattanooga State's operational plan, visit chattanoogastate.edu.