Chattanooga State Faculty Member Honored
January 27, 2020 | Cheryl Miller | Internal Press Release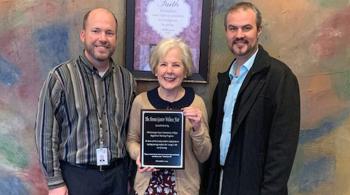 Hennie Gunter, Associate Professor of Nursing, recently retired from the RN Nursing Program at Chattanooga State after completing 31 years of service.  
Recently, Ms. Gunter was honored by the nursing faculty, Chattanooga Community Kitchen administrators, and Chattanooga Mayor Andy Berke, for her involvement with students at the Community Kitchen.  
Following implementation of her dream for the past seven years, Ms. Gunter has coordinated an annual wellness fair in November for the clients of the Community Kitchen. With the help of the senior nursing students at Chattanooga State and local businesses, clients have been supplied with various items needed for winter while learning about various health issues from the nursing students. 
This December, after the annual November event, Ms. Gunter was honored by having the fair renamed "The Hennie Gunter Wellness Fair" in honor of her continuing dedication to this event. She was presented with two plaques- one which will hang in the dayroom of the Community Kitchen.  
Even though Ms. Gunter has retired, she was there to help with the fair this past November and is committed to being there each upcoming year to help with the event.  She also continues to serve as a volunteer at mealtime in the kitchen. 
Congratulations to Ms. Gunter for this honor. Chattanooga State Nursing Program is committed to making "The Hennie Gunter Wellness Fair" an annual event while striving for the success it has had under the direction of Ms. Gunter.