Chattanooga State Establishes Student Technology Pantry in Celebration of #GivingTuesday
November 19, 2020 | Betty A. Proctor | Internal Press Release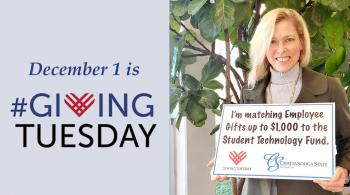 On December 1, Chattanooga State will celebrate the global movement #GivingTuesday with the specific purpose of raising funds for a student technology pantry. This pantry will provide our students with technology items such as laptops, webcams, hotspots, calculators, and other components that they need to work from home and successfully complete their coursework.
CARES Act funding received earlier this year allowed the College to purchase 238 laptops. Now, with a goal to add 262 laptops, thereby increasing the inventory to 500 laptops overall, this #GivingTuesday, the Chattanooga State Foundation will focus on raising funds to support our students through the Student Technology Fund. Of the remaining 262 laptops still needed, 50 will be for Engineering/IT students at $1,750 each, and 212 traditional laptops at $1,250 each, totaling $352,500--just for the laptops.
"Before COVID-19, we were not fully aware of the deep technology divide that was present on our campus. Now, we are keenly aware that many of our students do not have access to the technology resources that have become essential to learning," states Dr. Rebecca Ashford, Chattanooga State president. The College loaned 238 laptops in the spring of 2020 and 307 units this fall.
The Student Technology Fund was established by a Chattanooga State staff member who observed on a daily basis the growing technology needs of our students. Adds Dr. Ashford, "For this reason, we have created a fund to support a 'technology pantry' that will connect our students to the technology resources they need to be successful. The technology fund is the focus of our #GivingTuesday campaign this year, and I hope you will join me in contributing to it."
You can help when you make your gift to the Chattanooga State Foundation's Student Technology Fund. Those who are interested in joining the Chattanooga State Foundation initiative can visit give.chattanoogastate.edu and select Student Technology Fund.