Chattanooga State Engineering Week Presents Women in STEM
February 17, 2021 | Betty A. Proctor | Internal Press Release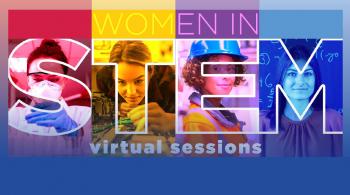 Science, Technology, Engineering, and Mathematics (STEM) occupations are expected to experience rapid growth in the coming decade; however, a gender gap persists in STEM occupations worldwide. To help address this gap, Chattanooga State Community College will present Women in STEM, to provide opportunities for students to explore STEM careers virtually from home or school.
Co-sponsored by the Strengthening Career and Technical Education for the 21st Century (Perkins V) Act and Regional Center for Nuclear Education and Training (RC-NET), Chattanooga State will present a total of eleven, 45-minute to one-hour long informative and fun sessions that include demonstrations throughout the week of February 22-26, 2021.
Fun with Particles and Light // February 22 @ 1p.m.
Want to have some "fun with particles and light" and learn about Chemistry? Join Dr. Soubantika Palchoudhury, assistant professor in the Civil and Chemical Engineering Department at the University of Tennessee at Chattanooga (UTC).
An Hour of Code // February 23 @ 9 a.m.
Interested in learning code, join "An Hour of Code" presented by Savitha Pinepalli, assistant professor and department head of Information Technology and Hanadi Mohamed, instructor, at Chattanooga State.
Un Vistazo a Mi Carrera Como Ingeniera Civil (A Look at My Career as a Civil Engineer): An ESL Presentation // February 23 @ 11 a.m.
Take a look at a civil engineering career! Presented by Melissa Kelly, PE, the transportation project manager at the Chattanooga Department of Transportation.
Inclusion and Innovation in Civil Engineering // February 23 @ 11:30 a.m.
Learn about "Inclusion and Innovation in Civil Engineering" with Caitlin Moffitt, senior program manager, Civil Engineering at TVA.
Engineering is Just Math! // February 24 @ 9 a.m.
Learn what all engineering really consists of and about the different fields in engineering with Sara Jackson, outreach coordinator at the University of Tennessee at Chattanooga (UTC).
Chemistry in the Kitchen // February 24 @ 12 p.m.
Join the director of Culinary Arts at Chattanooga State, Matthew Williamson and a culinary student for "An Exploration of Culinary Science: Discovering scientific concepts in the kitchen.
What is Radiation and Contamination, and How Can We Keep People Safe in Nuclear Careers? // February 24@ 1 p.m.
Learn with Samantha Travis, coordinator for the Regional Center for Nuclear Education & Training (RCNET), an adjunct instructor at Chattanooga State, and a qualified radiation protection technician.
How to Prepare for a Career in Stem // February 25 @ 10 a.m.
How do you prepare for a STEM career and what are some opportunities to succeed in the future? Join Abigail Kasper, operations district specialist, TDOT and Jennifer Blanchard, civil staff engineer at S&ME, Inc as they discuss their background and engineer-work relating to transportation and water.
What is Nuclear Medicine? // February 26 @ 9 a.m.
Have you ever heard of nuclear medicine? Learn how technicians prepare their radiopharmaceuticals with Leesa Ross, associate professor and director of Nuclear Medicine at Chattanooga State.
SWE/ChaTech Women at Kenco Innov Lab // February 26 @ 9 a.m.
Students will visit the Innov Lab to see how Kenco provides engineering solutions to customers across the U.S., presented by Heidi Weisenber, SWE, project engineer, Kenco and Kristi Montgomery, ChatTech Women and vice president of Innov & Research, Kenco.
Civil and Environmental Engineering // February 26 @ 10 a.m.
With Maria Price, PE, M., engineering manager at the City of Chattanooga, Department of Public Works.
Digtal Electronics // February 26 @ 1 p.m.
Wonder what is inside digital devices like computers? Learn about "Digital Electronics" with Dr. Raga Ahmed, associate professor in Electrical Engineering at the University of Tennessee at Chattanooga (UTC).
All sessions are offered at no cost to participants and all students are welcome to attend. To register for any session, please email Breanne Kintz at Breanne.kintz@chattanoogastate.edu.