Chattanooga State Employees Support Students in Need
January 28, 2020 | Betty A. Proctor | Internal Press Release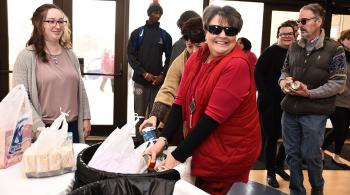 Food insecurity affects approximately 60% of college-age students, making it difficult to concentrate on academics when hunger persists. In a June 2019 study by the Hope Center for College, Community, and Justice showed that almost 86,000 students at 123 two- and four-year colleges had experienced food insecurity within the past 30 days.
Chattanooga State began addressing this concern in 2018 by implementing the Tiger Cupboard food pantry to combat food insecurity, providing food access to ChattState students in need who complete a short form available through the Student Support Center. During the summer of 2019, students enrolled in Houston Graham's HVAC/R program worked together to refurbish a refrigerated cooler, allowing the cupboard to offer fresh fruits, vegetables, milk, and other perishables. By the fall, requests for food assistance had almost doubled over the previous year.
Another avenue to help students in crisis is the Chattanooga State Foundation Helping Hands Fund. The fund provides emergency support to students facing a crisis, helping them with unforeseen financial emergencies, such as a bus pass or gas card, utilities, daycare of other non-routine expenses, ensuring they stay in school and on track to graduate. 
#GivingTuesday, established in 2012, has grown into a global movement inspiring hundreds of millions of people to give, collaborate, and celebrate generosity. In December, faculty and staff were encouraged to give to the Helping Hands Fund while donating non-perishable foods to the Tiger Pantry during their annual holiday luncheon. Due to the generosity of Chattanooga State faculty and staff, $6,110 was raised on #GivingTuesday earmarked for the Helping Hands Fund. At the luncheon, 3,949 non-perishable food items were donated and $430.75 was raised for the Tiger Pantry.
Overall, Chattanooga State employee giving increased from 48% in FY2018, with 338 employees giving $42,885, up to 52% in FY2019, with 374 employees giving $53,013.
For more information about Chattanooga State student services, contact Sandy Rutter, Dean of Student Engagement and Support Services, at (423) 697-4475