Chattanooga State Employees Give Back
July 30, 2019 | | Internal Press Release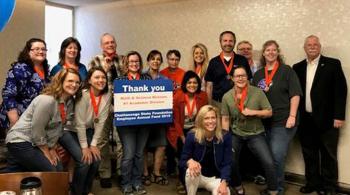 Faculty and staff at Chattanooga State Community College strongly believe in what they do by not only providing an excellent educational foundation and support to students, but also by providing tangible funds in the form of scholarships that continue to help students reach their goals.
"We wish to express our gratitude to Dr. Roy Sofield, Chair of the FY2019 Employee Giving Campaign, and all of our faculty and staff who made gifts to the Chattanooga State Foundation," shares Suzanne Harris, College Advancement Coordinator."Employee giving exceeded last year's amount, with an overall giving total of $53,036, up from $42,885 last year," she adds enthusiastically.
One of the may many funds supported by college employees was the Helping Hands Fund. Established in April 2018, 119 donors have made gifts totaling almost $17,000. Most of these gifts came from Chattanooga State faculty and staff through payroll deduction.
The Math and Science Division led by Dr. Karen Eastman was awarded first place for having the highest participation rate in the academic divisions at 79%.
Institutional Effectiveness, Research and Planning led by Dr. Traci Williams was awarded first place in the department competition by being the first to obtain 100% participation. They were followed by three other departments that also achieved 100%.
Chattanooga State's employee giving campaign celebrated with Chattanooga State President Dr. Rebecca Ashford during a Breakfast of Champions event in May. The FY2019 campaign ended June 30, 2019.