Chattanooga State Dental Hygienists Want to See You Smile
February 11, 2021 | Betty A. Proctor | Internal Press Release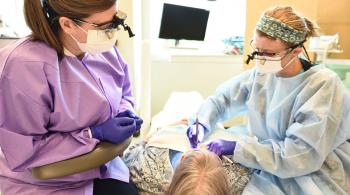 Here's something to smile about! Chattanooga State's student dental hygienists provide no-cost and reduced-cost preventative dental health services to the public in Chattanooga State's state-of-the-art dental clinic. Dental hygiene faculty supervise and prepare future hygienists to become competent, contributing members of the dental care team.
Now taking appointments for the spring semester, no-cost complimentary screenings are available to adults, veterans, and children ages 4-13. Complimentary services include cleanings and x-rays for children. For adults, they include screenings that include bitewing x-rays, sealants, and fluoride treatments.
Other services available to adults for a fee include cleaning, periodontal scaling and root planning, or a full mouth set of x-rays. For veterans, all services are complimentary upon presentation of a valid ID. Chattanooga State students, faculty and staff receive a discount.
Individuals seeking to take advantage of these dental services may call (423) 697-4444 or email Judith.blevins@chattanoogastate.edu for appointments on Mondays, Wednesdays and Fridays at 8 a.m.