Chattanooga State Celebrates Student Excellence Virtually
May 22, 2020 | Betty A. Proctor | Internal Press Release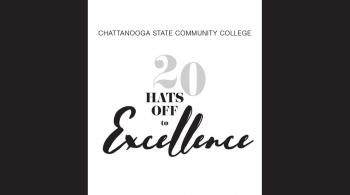 The spring 2020 semester will not soon be forgotten, but despite the challenges created by the pandemic, Chattanooga State Community College paved a virtual way to celebrate student excellence during its annual Hats Off to Excellence ceremony yesterday evening. This year's ceremony recognizes outstanding students from divisions, departments, clubs, organizations, and for distinguished service and 4.0 grade point averages. To view the ceremony from last night, May 21, 2020, see https://youtu.be/KEZ9RrzMfdg
4.0 Awards by Division:
Allied Health – Jessica Anderson, Kirsten Armstrong, Heather Hall, Bethany Hummer, Rebecca Johnson, Angela Marsee, Bethany Patterson
Business - Branson Bowling, Joshua Rowell, Kayley Turney, Jerry Webb
Engineering & Information Technologies - Abigail Calfin, Rebecca Gilliam, Christopher Hudson, Christopher Jensen, Anthony Klompien, Timothy Martin, Delwyn Sam, Alexandra Spalding, Wesley Spring
Humanities & Fine Arts – Josh Alonso, Tondalaya Bolton, Ashley Demerritt, Thomas Kiser, Asha Mcgowan, Rosemary Reid, Destiny Warner
Math & Sciences – Nora Bauer, Kaylee Chisam, Gabriel Dos Reis Correa, Madison Morris, Gesa Nestler, Gary Satin
Social & Behavioral Sciences - Alicea Davis, William Lemley, Joseph Malone
Excellence Awards by Division:
Jerry Webb, Business
Kenneth Coleman, Engineering & Information Technologies
Bailey Shetter, Humanities & Fine Arts
Kaylee Chisam, Math & Sciences
Amy Stewart, Nursing and Allisha Coyne, Allied Health, Nursing & Allied Health
Taylor Kline, Social & Behavioral Sciences
Departmental and Related Club Excellence Awards:
BUSINESS:
Jennifer Griffith, Administrative Professional Technology
Lori Brinkley, Accounting
Darya Goreva, Entrepreneurship
Sara Lankford, Tourism Management
Latonya Henderson, Hotel Management
Charlie Zimmerle, Culinary Arts
Courtney Espy, Food and Beverage Management
Nicholas Petty, Media Technologies
Kaela Burnett, Graphic Arts Technology
ENGINEERING & INFORMATION TECHNOLOGIES:
Perry Elrod, Civil Engineering
Reginald Marshall, Construction Engineering Technology
Delwyn Sam, Electrical Engineering
Gage Plotner, Aerospace Engineering
Amanda Harvey, Mechanical Engineering
Wesley Spring, Automated Controls
Anthony Klompien, Industrial Technology
Christopher Jensen, Mechatronics Systems - VW
Colton Layne, Quality Assurance/Quality Control
Max Meza, Mechatronics Systems
Rebecca Gilliam, Welding Engineering Technology
Bernardino Huerta, Chemical Engineering Technology
Summer Ramirez, Engineering Systems Management
Michael Smith, Non-Destructive Testing
Michael Tudor, Mechatronics Technology
Patrick Loyd, Programming
Evan Orr, Cyber Defense
Kenneth Coleman, Networking & Volunteer Member, IT HUB Club
Joseph Horesovsky, President, IT HUB Club
HUMANITIES & FINE ARTS:
Hannah Patterson, Music
Matthew Hadden, Music Theory
Fiona Barrett, Vocal Performance
Wendi Tang, Painting
Justin Spencer, Photography
Megan Matthews, Latino Cultures in the U.S.
Rebecca Zagami, Spanish
Sandra Scalice, President, Club de Español
Robert Steely, Excellent Service, Music Club
Jordan Davis, Outstanding Leadership, Music Club
MATH & SCIENCES:
Milkayla Skillman, Chemistry
Sofia DeCredfico, Mathematics & President, Math Club
Gage Plotner, Vice President, Math Club
NURSING & ALLIED HEALTH:
Meaghan Rachels, Club Service, Veterinary Technology Club
SOCIAL & BEHAVIORAL SCIENCES:
Aslynn Price, Behavioral Sciences & Leadership, Psychology Club
Kristen Hopper, Social Sciences
Jacquelyn Stracener, Early Childhood Education
Jake Patterson, Event Planning & Leadership, History Club
Alexandra Templeton, Leadership, Psychology Club
Club & Organization Awards:
Ambassadors - Phoebe Sevanick; Stephen McCurdy
Asian Culture Club – Leanna Harmon; Alyssa Dela Cruz
B.O.S.S. (Building Outstanding Service Scholars) – Deshiya Conner; Christiana Long
C.AD.R.E. Adult Student Club - Deborah Hale; Bradon Frank
Chattanooga State Veteran Club – Dianne Maradiaga; William Flegal
IM REC (Intramurals & Recreation) – Stephanie Lopes; Brittany Tiffin
LASO (Latin American Student Organization) –Francine Baggi; Natalie Sedeno
LIT (Lead Involvement Team) – Julie Ehrenfried; Kijana Gibbs
SkillsUSA – Lauren Pearce; Benjamin Furman
Tech Club – Chandler Turner; Emmanuel Hodge
The Communicator – Noah Browne; Kimberly Merfert
Student Government Association – Emanuel Jinks; Ariana Keller
Distinguished Service Awards:
President's Award – Aslynn Price; Katrina Griffin
Awardees have made a positive contribution to Chattanooga State Community College through their academic achievements, involvement in campus life, contributions to the campus community, or through their service to the community surrounding Chattanooga State.
Eye of the Tiger – Tiffany Mccaleb; Jessica Pendergraft; Pam Shelton; Aslynn Price; Emanuel Jinks; Erin Stodolak; Keanna Hill
Awardees have succeeded while persisting against difficult situations.
Advisor of the Year – Dr. Emily Dunlap, Psychology Club
Nominees are made by members of clubs and organizations and then determined by a selection committee comprised of faculty and staff.
Debbie Waggoner Above & Beyond Award – Sheila Gholston
The late Debbie Waggoner's battle with cancer took her from us prematurely, but not before she left her legacy of student advocacy. Debbie worked ardently on behalf of students, and as the award is named, she went "above and beyond" the call of duty.
Club of the Year - C.AD.R.E (Adult Student Club)
Only organizations that have achieved "Platinum" status within the Steps to Success rewards program will be eligible to receive the Student Organization of the Year as determined by a selection committee comprised of faculty and staff.