Chattanooga State Celebrates National Welding Month
April 29, 2019 | | Internal Press Release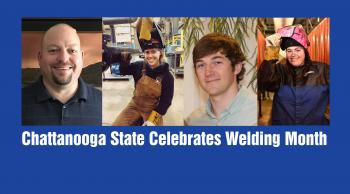 Whether the inspiration to get into welding came with a short- or a long-range plan, Chattanooga State graduates Ross Purcell, Rebecca Gilliam, Jeff Iley, and Kassey O'Kelley all have one thing in common: welding creates strength and reinforcement of metal, but welding also has built enduring strength into the lives of these four graduates.
Chattanooga State Community College offers welding programs through the divisions of Tennessee College of Applied Technology (TCAT) and Engineering & Information Technologies (E&IT). TCAT programs are designed to prepare students for a job within a year's time. They are focused on techniques, technical aspects, cutting, types of welding, math, and blueprint reading. E&IT classes prepare graduates for additional paths to attain Certified Welding Inspectors (CWI) or Certified Robotic Arc Welding certificates. Classes provide practical skills and theory, inspection, fundamentals of welding design and code requirements while using welding equipment and robotics for materials joining. Kassey and Rebecca began their welding paths in TCAT, while Ross and Jeff started their paths in E&IT.
Kassey O'Kelley, a 2018 TCAT Welding Technology graduate says her instructor, "was the most amazing teacher who really took his time with students to teach as much as he could by making class fun and enjoyable." Taking classes at night allowed Kassey to keep her full-time day job. She now works as a welder fabricator, using stick and flux core welding on a daily basis while continuing to improve her TIG (tungsten inert gas) skills. "Welding compliments the natural inclination to work with my hands; I can physically see the impact of my work," she states.
"Intriguing," is how Rebecca Gilliam describes her fascination with welding after watching husband Preston weld on jobs. Preston graduated in 2014 from the TCAT Welding Technology program offered at the Kimball Site. Rebecca met Preston's instructor, Cliff Hookey, and watched the welding students work, saying she "instantly fell in love" and decided that welding would be her career. Three months after giving birth to her daughter in 2017, Rebecca followed her dream and enrolled in the same program from which Preston had graduated, graduating in 2018. Her dreams did not end there as she decided to enroll in the E&IT Welding Engineering Technology program on the credit side that fall. As an extremely busy  23-year-old wife and mother, a 4.0 Global Scholar and PTK honors student, Rebecca is also involved with student organizations, and on her way to graduating in December 2019. She then plans to re-enroll in the Non-Destructive Testing program. Says Rebecca, "I have never regretted my decision of becoming a student here … Chattanooga State has opened so many doors for me!"
As a master plumber, Michigan native Jeff Iley began learning to weld in his local union hall to help ensure that he could find work as a welder when plumbing jobs were completed resulting in layoffs. He then graduated from a nine-month structural and pipe welding program at a trade school in Ohio. Jeff was able to use articulated credit at Chattanooga State for most of his welding-related credits as he pursued his A.A.S. in Engineering Technology, with a concentration in Welding Engineering. Prior to his 2015 graduation, Jeff's skills were sought by Fronius USA and he was employed as a Sales/Process Application Engineer in Chattanooga, TN. During the four-year period that he was employed by Fronius, Jeff earned his Certified Welding Inspector & Certified Welding Educator (CWI and CWE) credentials from the American Welding Society. Having accepted a new position as the Regional Sales Manager for Optrel Inc., he is continuously improving himself and taking his career to new heights. Still based in Chattanooga, Jeff also serves his alma mater, Chattanooga State, as a Certified Welding Inspector for the American Welding Society's, Authorized Testing Facility on Chattanooga State's main campus.
In 2013, Ross Purcell was introduced to what he says was, "the latest and greatest technology on the market" at Voith Hydro Services, a company specializing in cavitation repair, field machining and welding on all types of hydro turbines. At the time, he was a sophomore at UTC majoring in environmental science, but a lucrative pay increase made him realize that welding was his ticket into the "niche" business path placed in front of him. Enrolling in Chattanooga State's Welding Engineering Technology program in 2015 enabled him to become a valuable asset in the industrial business world. Ross, who graduated in 2018, says that classes in structural design and fabrication, NDE, metallurgy, and CAD programs prepared him for the steps ahead. By combining his welding skill set with the verbiage and test-taking skills, helped him complete his greatest goal of becoming an American Welding Society (AWS) CWI. Now actively pursuing two goals, Ross serves as a project engineer for a Chattanooga-based small business, AMT Hydro Services, LLC and in an entrepreneurial role working toward becoming a member of the next big fabrication boom in Chattanooga. Ross plans to join his new business partner, Nelson Johnston as they shift their focus toward the growth of Thorough Built LLC beginning May 1, 2019.
Chattanooga State salutes all welding graduates during National Welding Month. These graduates are provided with a strong foundation and are well-prepared for their futures. Chattanooga State is now enrolling for fall 2019. For more information on a welding career, visit chattanoogastate.edu or call (423) 697-4400.