Chattanooga State Announces Summer 2021 Dean's List
August 23, 2021 | Betty A. Proctor | Internal Press Release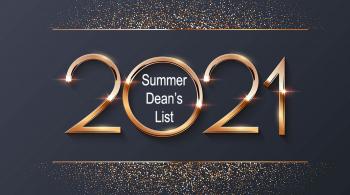 Chattanooga State is proud to announce that students from the following counties have attained Dean's List status for the 2021 summer semester. Eligibility requirements to make the Dean's List includes students who have completed 12 or more hours of college-level work with a grade point average (GPA) of 3.5 or higher for that semester. Dean's List recognition is based on calculations at the end of the semester and cannot be updated later to reflect grade changes, such as removal of incompletes.
BRADLEY COUNTY:
Bethany Lyn Bridwell, Tucker Adam Garrett, Valeria Grimaldo, Jessica Marette McCann. 
CATOOSA COUNTY, GA:
Alexandria Baylee Bryan, Nikki Orel Pascual Wooten. 
HAMILTON COUNTY:
Samuel Logan Alder, Chase Cameron Batten, Dannah Michelle Beavers, Beverly Bird, Joshua Tyler Brown, Nikolas Anthony Caron, Jody Emanuel, Levi Michael Farber, Ashyln Elizabeth Ford, Colby Danyale Garner, Angela S Karnauch, Yancy Dillon Luttrell, Muhyiddin B Osman, Asia Yasmin Scott-Taylor, Joya Noelle Shenefield, Savannah Mae Spurlock, Elizabeth A Stanley, Erin Elizabeth Stepp, William Tanner Stone, Brooke M Sutton, Tandi Elizabeth Sypolt, Dylan James Vogel, Michael Bailey Wade.
MARION COUNTY:
Austin Taylor Camp, Kirsten Lauren Lee, Savannah Marie Parker, Courtney Brooke Tuders, Brittney Elizabeth Watley. 
RHEA COUNTY:
Baylie Iasis Clawson, Jason Thomas Colson, Jessica Brooke Newman, Brianna Marie Shoffner. 
SEQUATCHIE COUNTY:
Seneca Bryelle Barnett. 
WALKER COUNTY, GA:
Megan Jean Johnson, Megan Langley, Madison Michele Ripper. 
Congratulations to these students on their academic accomplishments! For a complete list of all students named to the summer 2021 Dean's List, visit Chattanooga State's Facebook page at https://www.facebook.com/ChattState/posts/10159677106691228.