Chattanooga State Announces Fall 2020 Dean's List
January 4, 2021 | Betty A. Proctor | Internal Press Release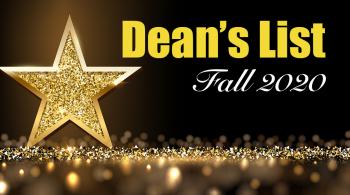 Chattanooga State is proud to announce that the following students have attained Dean's List status for the 2020 fall semester. Eligibility requirements to make the Dean's List includes students who have completed 12 or more hours of college-level work with a grade point average (GPA) of 3.5 or higher for that semester. Dean's List recognition is based on calculations at the end of the semester and cannot be updated later to reflect grade changes, such as removal of incompletes.
Congratulations to these students on their academic accomplishments! For a complete list of all 915 students named to the Fall 2020 Dean's List that are not shown below, visit the Chattanooga State Facebook page: facebook.com/ChattState
Bledsoe County: Kirkland Lee Bice, Barbara A. Boden, John S. Feezell, Kenzie Lanae Finkel, Rickey Dakota Harvey, Brittany NIchole Hickman, Cortney G. Lewis, Benjamin Isaac Norton, Carlie Elisabeth Simmons, Riley Christian Young.
Bradley County: Jarod Paul Bacon, Tatum Blayke Bigham, Bailey Lauren Bridwell, Anna Nicole Cadwallader, Olivia Grace Cantrell, Oscar Cobon, Erica M. Crumbley, Michael W. Daub, Tara Maree Davis, Peyton Davis, Savannah Marie Dunn, Hope K. Everett, Gracie Elizabeth Fowler, Julie Anne Goonetilleke, Alice Goonetilleke, Valeria Grimaldo, Mitchell David Groff Alexis Makenzie Haney, Jameson Eugene Hannah, Brianna Nicole Harwood, Brenna Leigh Hayes, Austin Lee Hughes, Rachel Rose Hysni, James C. Kilgore, Kaylee Allaina Logan, Rachel A. Marler, Audrey Morman, Brandon Lee Mullins, Zachary Richard Nall, Dustin Noel, Nathan Joel Ownby, Miraina Patel, Yadira Angelina Pimentel, Natalie Paige Pruitt, Gideon Alexander Ratcliff, Anna Rose Roberts, Noah James Sample, Kalie Marie Shields, Aubrey Elizabeth Sims, Anna G. Skidmore, Robin Elizabeth Slattery, Sarah Ruth Steele, Garrett Scott Stone, Zachary Tate, Kathryn E. Thompson, Kena Walker, James Darrell Wells, Joseph James White, Madelline Aubrey Woods, Lilly L. Wright.
Catoosa County: Linda Lee Baggs, Alexandria Baylee Bryan, Caleb S. George, Ashley Harrell, James Phillip Horne, Jerry Lee Hullander, Diana M. Ingram, Seyeop Lee, Sean Evan Miller, Tessa Lyn Munroe, Caylee Meaghan Parrish, Lance Michael Patty, Sydney M. Pittman, Cailyn N. Salhany, Joel M. Sawyer, Laura Schwindler, Laura Smartt, Lillian Fawn Smith, Andrea M. Smith, Rowdy L. Tucker, Nicholas Patrick Walton, Chainey Maegan Watkins ,Nikki Orel Pascual Wooten.
Dade County: Henry Odell Avans, Christopher A. Brown, Emilia Bret Potter, Lydia Fay Reed, Austin Neil Sarwar.
Grundy County: Teah Jordan Bosio, Hannah Elizabeth Butner, Emily Grace Foshee, Jaclyn Delaney Hughes, Angel Lee Lang, Devan Scott Layne, Emma Rylee Myers, Jacob A. Nunley, Hodiah J. Santucci, Sidnee Nicole Scissom, Hannah Gabrielle Shrum, Mckye Kane Shrum, Ensley Brianna Stevens.
Hamilton County: Abdol-Munim Abazid, Amal Abazid, Kaitlyn Marie Acuna, Emily Jeanette Adkins, Enoch Spencer Adkins, Diego Benjamin Allen, Abigail Kayla Allen, Margo I Alsept, Daniel Alvarez, Kayden E. Ammerall, Samuel Chandy Andrews, Aiden James Appel, Summer Noelle Aragon, James Chendi Archer, Argelia I. Avila, Gabrielle Ayala, Caleb Aytes, Jackson Kellett Babb, Jon Michael Babb, Daniel J. Bailey, Jeannie Maria Banks, Jacob Caeser Bastien, Abigail Victoria Bateman, Alexandra Cordell Bates, Olivia Bella Bautista, Kee Marcello Baxa, Richard H. Baxter, Lindsey Jade Beacham, Deshayla Nichelle Beamon, Kevin Amon Bennett, Annelise Berger, Savannah Grace Bice, Jacob P. Bieber, Brianna Nicole Black, Melody Ruth Blanton, Alexander Michael Bledsoe, Jacob Bolden, Beau Raulston Booth, Megan Renée Boshers, Madeline Rose Boshers, Hazi Drew Bowman, Haley Michelle Bowman, John W Bowman, Emily Lynn Breeden, Tanner Patrick Brewton, Madison Paige Brooks, Dylan C. Brown, David Luke Brown, Sydney Paige Brown, Grace-Marie Brunken, Katie Ann Bryan, Keily Suzana Miche Bryson-Smith, Steven Thomas Buckelew, Aaron Bun, Marko Burdeiniy, Summer Jeane Cagle, Olivia G Cain, Anastasia Ariel Caldwell, Cameron Tyler Camenisch, Teja R. Campbell, Randy Carl Cantrell, Katelyn Davis Carver, Alexander Thomas Cecil, Ulises Ayden Cervantes Guzman, Griffin John Chambers, Emmaline Ruth Champion, Alexandria Gabrielle Chapman, Matthew Alexander-Theodore Chavis-Tartaglia, Mindy Chen, Aaron Bryce Chidester, Paul T. Chrisawn, Drake Riley Christensen, Zoe Alexander Clarke,Zachary Tyler Cody, Allie Elizabeth Collins, Jessica Hope Collins, Anahi Colunga, Lindsey Nicole Comer, Aidan Michael Condry, Chayil De'Nasia Constant, Paige Mackenzie Coogan, Madison Elizabeth Cook, Erin Cooper, Faith Maria Cope, Grace Clare Corry, Abigail Grace Corvin, Steven M Costello, Madison Zada Cothern, Adrienne Jeanne Cox, Ashley Kaye Cox, Kaleb Zachariah Wade Cox, Della Sterling Craig, Austin Paul Cramer, Kelvin Lee Cranfield, Cara Leigh Creighton, Kennedee Nikol Cross, Tristan Douglas Cudd, Joshua Ellis Cunningham, Kylee Rae Cunningham, Karis D Dabney, Jasmine Nicole Dailey, Lily Grace Daniels, Christian Michael Davenport, Makenzie B. Davidson, Breanna Alyss Davis, Tremel Demon Davis, Parker James Davis, Jasmine Moon Davis, Hayden Scott Davis, Ketlin De Mello Moreira, Winston DeCredico, Molly Amanda Dedrick, Stephan Robert Demilt, Brandon W. Denley, Kyler Gage Dennis, Mitchell Reid Dennis, Bryce DiDonato, Santana K. Dickerson, Joshua Kean Dobbs, Brenda Olga Dolmuz, Michael Shane Dorian, Kassie Lynn Dover, Sophia Kamal Dozier, Joshua Klause Dressel, Wesley Scott Duncan, Brian A. Dunn, Gabriella Carolena Dupuy, Jayde Alexandra Durham, Josiah Eli Dycus, Lillian B. Dyer, Aubree Jacqueline Eaker, Robin Ranee Eaton, India Simone Eberhardt, Unenakam Aniekan Ebiefung, Zenkline Walden Daan Elle, Hannah Hyacinth Elle, William David Ellis, Maryclaire Ellis, Breanna Lettie Enoch, Leslie Facio, Levi Michael Farber, Lemana Fermic, Angie Figueroa, Parker D. Fleming, Madison Paige Floyd, Tyler David Fly, Joshua Scott Foley, Jacob Aaron Fontanilla, Mason Dale Forrest, Kelsey Madison Foster, Laura L. Fox, Sydney Lyn Francisco, Gerrika Jen Neice Fredericks, Katelyn Elizabeth Frye, Kaylin Elizabeth Fugatt, Kinsey Joelle Fugatt, David Tyler Gant, Hannah Kirimi Gifford, Gracie Gilbert, Natalie Ann Gill, Destini L. Givens, William Corum Gold, Thomas Ian Goolsby, Riley Walker Gordon, Lindsay Ryann Gough, Kendall Christine Graham, Brianna Lee Grant, Amanda Suzanne Green, Isaac David Guardiani, Hanton Guerrero, Zoey Ray Guess, Khadim Gueye, Mouhamed Gueye, Tara Skylar Gurrola, Shannon Rae Gutierrez, Emmaline Katherine Grace, Hale Nyree Hale, Makayla Lynn Hall, Avery Depaul Halloran, Brianna G. Hamby, Vallerie Lisa Hamel, Natalie Anne Hammel, Aaliyah Renee Hammontree, Kylee Grace Hancock, Emily Grace Hardin, Kurstyn Reese Hardin, Kerri Beth Harris, Macy Brianne Harris, Clifford Brimmer Harris, Sophia Dionne Harris, Christina Roberta Harris, Catherine I Hatfield, Tris Haugh, Indiana D. Hedges, Keaton James Helm, Salvatore Henry Helmholtz, Joseph Dylan Hendricks, Chloe Shayne Hendrix, Mary Nicole Henkel, Samuel Joseph Herrmann, Alleson Brooke Herron, Madison H. Hester, Camilla Araujo Hickman, Andrew Henry Hicks, William Garrett Higgins, Hannah Ruth Hightshue, Jeremy D. Hill, Lydia M. Hinchman, Callie Lyn Hindman, Sasha Claire Hitachi-Kizziah, Alyssa Brooke Hobbs, Vladimir Kenneth Hollingshead, Madison Holmes, Andrew Sean Hooker, Rachel Danielle Houghton, Rebecka Houghton, Yazan Abdulhadi Hourani, Victoria Ann Howard, Noah Jaxson Howard, William Neland Howard, Emily J. Howe, Monica Lanae Hubbard, Jessica Paige Huddleston, Sarah Elisabeth Hudgens, Morgan Rose Hughes, Kirsten Nicole Humble, Victoria Jade Hunt, Jennifer M. Huston, Alexander Steven Hutchings, Bannon Case Ireton, Jerrod J. Irick, Jacqueline Sophia Irion, Elizabeth D. Isaac, Solomon Isaiah Jackson, Edward John Jahen, Alexander Philip Jarl, Calvin Michael Jenson,. Kaveri M Jimenez, Andrew Connor Johnson, Kennyana Ja'nise Johnson, Kerry Jo Johnson, Hannah Ruth Johnson, Summer Squires Johnson, Christopher Ethan Jolly, Jesse James Jones, Jada Samone Jones,  Anthony Jones, Joel Jose, Alexander Kristin Judia, Caleb Dale Kamrath, Angela S. Karnauch, Christian James Keenan, Jacob William Kenney Camille Lela Kershaw Brooke Elizabeth Kesley Mattison C Keur Ian Matthew Kibby Johnathon D Kile Jasmin Alexus Kilgore Luna, Aria Genevieve Kilpatrick, Aundrea Hope King, Maxwell Simon Edison King, Ali N. Kirby, Carmen Elisabeth Knox, Heather Kounthapanya, James Callan Kroll, Samantha Urania Lacayo, Brandon Floyd Lamphier, Tracy Lynn Langford, Daniel James Langston, Alexandria Reese Laughrey, Stephen Finis Lawrence, Anslee Jade Lawrence, Lauryn Q. Lawson, Ryan Matthew Layne, Paige M. Leamon, Michael Allan Lee, Michelsea Dianne Lee, Bailey Maude Lee, Mason Kirk Leuty, Bronica Tane Levin, Briana Michelle Lewis, Katelynn Jodie Liner, Maleah Ta Liptak, Kaye Llanes, Joseph Benoit Lloyd, Jacob Randall Logan, Vivian Jean Long, Sarah Elizabeth Lord, Jordan Lee Lucas, Iris Acadia Luce, Timothy Daniel Lyashevskiy, Joselena Aileen Madrigal, Braxton J. Mahr, Liam Cullen Mall, Madalin Jane Malone, Ewan Thomas Manalo, Andrew David Marshall, Conor Stephen Mast, Rachel Mikayla Masters, Joshua Paul Masters, Kellie McCoin, Anilyn Gene McCoy, Destiny McCoy, Madelyne Rene McCreary, Jessica Briann McDade, Jacob McDaniel, Lisa Pell McDonald, Samantha McGill, Anna Rose McGinnis, Evan Charles McIntyre, Camden Greer McMasters, Alina Belle McNabb, David Richard Mead, Ana Consuelo Medina Rodriguez, Michael Rainier Meehan-Keeffe, Madeline Hazel Meier, Rebeca E. Mendez, Savanna Elaine Merciers, Emerson Miller, Jessica Miloslavic, Christopher D. Milsaps, Emily M. Mitchell, Garrett Alan Moore, Royly Emerson Morales, Eric Moreno, Hunter Aaron Morgan, Hunter Chase Morgan, Heather Alexis Morrison, Mystelle J. Moseley, Catherine Noel Murphey, Teagan Anne Murphy, Ian G. Murphy, Rebecca Ann Musgrave, Roderick S. Musgrave, Rachel Musgrave, Saba Taufiq Mustafa, Jessica Navarro Perez, Hayden Walker Neal, Amber Leeann Newbille, Kara Ann Newman, Nils Augustus Newman, Faith Kelly Newman, Elizabeth Miranda Nikhomvan, Ariel Morgan Omarzu, Evan Michael Orr, James Richard Ortiz, Alisha Nicole Osmundsen, Genevie Liana Owen, Ciara Lejean Page, Lyra Celeste Pala, Joshua Palevo, Tanner S. Parscale, Suchi Hiteshkumar Patel, Lesha Anne Patterson, Hannah Grace Patterson, Zipporah Lane Patterson, Zachary Martin Patterson, Cade William Patterson, Hunter Mckinley Payne, Timothy Justice Peltier, Alyssa Brooke Pendleton, Deisy Adriana Perez-Sontay, Dorothy Perkins, Joelle Marie Pester, Ebony L. Pettaway, Khanh D. Pham, Matthew Le Phan, Ronald R. Piepmeier, Faith Ann Noel Pitchford, Brian T. Pleso, Greyson Ponder, Nicole Potgieter, Brady Ferran Powell, Evyn Daniel Price, Katelynn Marie Pricer, Price Patterson Pruett, Cady Danielle Pruitt, Quinton Moon Quan, Syeda Annur Rahman, Joshua Rajan, Amy Rebekah Raley, Andrea Alejandra Ramirez, Javier O. Ramirez-Alcaide, Viviana Linnett Ramos, Sydney Leann Ratledge, Jordan La Rattanavong, Dakota Lee Rawiszer, Alekzander Nathaniel Rawlinson, Joseph Tyler Rawlston, Jason Andrew Reed, Tyler Matthew Reilly, Mary Ann Renshaw, Madison Ciera Resch, Michelle Revollo, Juana Reynoso Lopez, Michael Scott Rhea, Endiya Markia Rice, Eleah Rico, Lucas Justin Ridge, Joel Thomas Rigsby, Ana M. Roach, Christopher Joel Roberson, Catherine Lillian Rocha, Zoe Anna Rogers, Kaitlyn R. Rose, Lee Aaron Rosenberg, Tariq Tigris Roundtree, Michelle Elizabeth Rowland, David Rudek, Byron Lebron Russell, Cornelius Rubiano Russell, Elizabeth Rutkovskaya, Madeline Elliott Salvador, Ami Judith Sanchez-Barrios, Brittany Santiago, Tabata Scalioni, Mary A. Schafer, Breanna Marie Schiavo, Autumn Lynn Schulmeister, Maya Grace Minxuan Scribner, Sarah Marie Shved, Abigail Faith Simpkins, Olivia Ann Simpson, Bileah Sit, Khadijah Sade' Sivels, Emily Marie Skiles, Cayenne Nicole Skillman, Evan Skrgic, Francois G. Slabber, Andrew Slater, Gavin Wayne Slaven, Ashleigh Grace Slavny, Edward Allen Smith, Joshua Conrad Smith, Gabrielle D. Smith, Chelsea J. Smith, Kendall M. Smith, Haley Mckenzie Smith, Payton Michelle Smith, Lauren Nicole Smith, Sabrina Nicole Smith, Jackson Tyler Smith, Evan Smith, LubieAnna Smith, Erin Leigh Smoot, Benjamin Sneed, Hillary Alexandra Snider, Ryan E. Snyder Vivian Song, Ryan Lee Sooley, Peter Joseph Sparks, Natori Sparks, Jesse Alexander Springston, Alexis Diane Stafford, Madysun Brooke Steele, Liam W. Steen, Erika Lynn Steiman, Ross Thomas Stephens, Jennifer Cawthorn Stewart, Riley G. Stiles, Heng Xin Star Stowell, Kristin Marie Stubblefield, Olaf Harding Stubsten, Johnny Lee Sullivan, Juwainee Sumalee, William Logan Sutherland, Leah Marie Swafford, Whitney Swafford, Jacob Sylman, Elizabeth Taboada, Jocelyn G. Tarleton, Evan B. Taylor, Yacoubian L. Taylor, Joseph Matt Terrell, Madison Leanne Thomas, Tyler M. Thomas, Macy Ashton Tidmore, Kelsey Alexis Toney, Joseph Michael Toomey, Noemy Torres, David Alexander Townsend, Christopher Mason Travis, Robert Morris Trieber, Rachel Triefler, Rachel L. Turman, Megan Faith Turner, Kristian Lee Turner, Lashundra Simone Turner, Jeremiah Zander Turner, Emma Elizabeth Tuttle, Samuel I. Vandergriff, Bryce Vandyke, Jyothi Varghese, Ricardo Vazquez, Brian Velasquez-Tercero, Yohanna Teresa Villalona Mazara, Yahaira Judith Villanueva, Nancy Caroline Vining, Michael Bailey Wade, Mckenna Layne Wallace, Daniel Scot Walters, Hafsa Wasim, Ansley Elizabeth Watson, Morgan Chandler Weatherford, Kerry Denise Webb, Geoffrey A. Werline-Robinson, Le'Roy Von Weyler, Miles D. White, Dreanna Rhea Wildman, Kaleb Adriel Wiley, Connor Matthew Wilkey, Avery Lynn Wilkinson, Kailey Elizabeth Willhelm, Jordan C. Williams, Christopher Lee Williams, Jennifer Marie Williams, Xavier Rashon Williams, Hunter Reid Williams, Madison Rose Williams, Elizabeth Williams, Taehyun Michael Wilmoth, Katherine Alexis Wilson, Kimberly C Wilson, Olivia Kamaryn Wilson, Tyler James Witt, Keyla D. Wnuk, Megan Lyn Wooten, Michael D. Worley, Grace Elizabeth Wright, Micah I. Wright, Jada Nicole Wyatt, Nathan Josiah Wysong, Naida Xiloj Hernandez, Chloe Ping Yarbrough, Joshua Anthony Yebba, Emily Yemm, Joshua Yi, Natasha Zelsdorf, Jordan D. Zink, Claudia Denisse Zirangua-Onofre.
Marion County: Kayla Lee Chandler, Savannah Sherie Cooksey, Charles Dylan Daniels, Emily Katherine Donahue, Denson William Durham, Jordan Olivia Elledge, Hunter Grace Fowler, Ashley Michelle Green, Brianna Lalay Gregory, Charles Tyce Henderson, Malinda Diane Hickman, Kaleb Cole Holland, Justin McKinley Ireland, Emily Mae Grace Jordan, Robin Amber Kilgore, Ashton Taylor McGrew, Corbin Coleman Merrell, Olivia Faith Newson, Raven Hope Pittman, Tyeler Rawlins, Conner P. Rowell, Anna Nicole Salyers, Gracie Denice Shadrick, Elijah Richard Sisemore, Alicia Kay Slatton, Emily Kate Sneed, Kameron D. Stewart, Savannah Lee-Ann Thomas, Mya Elizabeth Vandiver, Angelina Destiny Westmoreland, Kaitlynn Mackenzie York.
Rhea County: Anastasia L. Aubie, Jennifer Annette Bell, Austin Michael Boofer, Moriah B. Brown, Judith T. Burkhead, Alexis June Burton, Victoria Suzanne Bustos, Timothy D. Conley, Hailey Alexa Corvin, Bryce Gurley, Micah Clayton Hall, Christian S. Horton, Charlie Evannah Howard, Colten Walker King, Hannah Nicole Lindley, Jashay Marbra Leona Locke, Steven Christopher Loden, Hannah Grace Masterson, Layla Jasmine McFalls, Trace Dakota Montgomery, Emily Anne Mullins, Zachary Adam Patton, Jessica Jade Patton, Hailey Jane Peppers, Sara J. Ray, Leilani Gabrielle Ridenour, Donna Lynn Robarge, Angela Rojas, Marissa Santiago, Eric Chase Scoggins, Gavin Michael Shaver, Trevor Blaine Smith, Kelly Dawn Smith, Sylvia N. Smith, Andy Solorzano Sanchez, Amber Dale Stanton, Olivia Grace Tucker, Rylee Ann Grace White.
Sequatchie County: William Jacob Akin, Jaedyn Rylee Anderson, Seneca Bryelle Barnett, Skyller Raiyne Beason, Miranda Brooke Bourque, Annabelle Campbell, Marissa Anne Castleberry, Leandra Michelle Coley, Lindsey Cookston, Kaitlyn Star French, Tori Mae Grayson, Megan Dawn Grimes, James Eugene Headrick, Hadee Rose Hedrick, Amanda Paige Hicks, Cassidy Nicole Holland, Addison Carl Holtcamp, Alexis Emery Hrinik, Adrin S. Jackson, Kelsey Leevona Johnson, Erica Chloe Keener, Victoria Elizabeth Keener, William Kaleb Lankster, Jamie Kathryn Layne, Ryan James McBride, Megan Louree McDowell, Jayden Lee Miller, Madison Grace O'Neal, Mackenzie Louise Patterson, Holly Nicole Pickett, Kullen Todd Ridge, Brandi Desha Smartt, Sarah G. Smith, Danielle Marie Smith, William Josef Spradlin, Carley Brook Terry, Jennifer C. Walton, Gabrielle Ann Whipple.
Walker County: Cory Marcus Allen, Samuel D. Blackwell, Alison Branum, Jeffrey S. Brooks, Lacey Renee Carroll, Megan Reynolds Farmer, Abigale Leigh Fults, Ansleigh Maysen Gitgood, Juliana L. Gonzales, Morgan Grace Humble, Megan Langley, Mollie JoAnn McClelland, Jessica Brooke McMahan, Christina Catherine Parrish, Christine Marie Ridgway, Lillian Yi Grace Butler Simcox, Nathaniel Tyler Eugene Suddeth, Chase J. Alex Wallin, Chaz Taylor Ward, Jade N. Whitaker, Catherine Callahan Worden.