Chattanooga State Announces Excellence in Philanthropy Awards
August 2, 2021 | Betty A. Proctor | Internal Press Release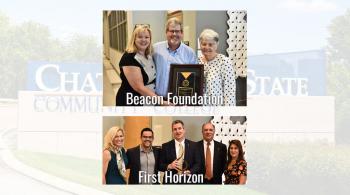 Regent Weston Wamp, representing the Tennessee Board of Regents, College System of Tennessee, announced two distinguished recipients for the 2021 Excellence in Philanthropy awards during a celebration on July 26. "The two organizations we are recognizing today have demonstrated a commitment to collaboration, caring for our students, and building a better future for our community," said Dr. Rebecca Ashford, president, Chattanooga State.
The Chancellor's Award for Excellence in Philanthropy was presented to the Beacon Foundation Charitable Trust. Since 2013, Beacon has contributed more than $650,000 with a cumulative impact touching the lives of more than 540 ChattState honors students, making possible unique learning experiences, service-learning opportunities, student leadership development, and a rigorous interdisciplinary honors curriculum.
"We would like to thank Chattanooga State for providing Beacon Foundation with the opportunity to provide scholarships and other funding for your students," stated Elizabeth Smith Williams, trustee, Beacon Foundation. "Hardworking scholars that I have personally met now have the experiences that we hope will help level the playing field between them and those with an easier path."
In response to the global pandemic during 2020, Beacon also provided an unsolicited $10,000 donation to the Helping Hands Fund used by students experiencing a financial crisis to help them stay in school. "We have a 'heart' for those furthering their education and we look for opportunities to assist those whose resources do not qualify them for conventional financial assistance," added Ms. Smith Williams. "We are passionate about the need for access for those students that may have some barriers to education."
"The College System of Tennessee is grateful for loyal and generous partners like the Beacon Foundation Charitable Trust," stated Regent Wamp. "Their visionary leaders work in partnership with Chattanooga State to provide life-changing scholarships, student enrichment not otherwise available, and a top-notch honors curriculum that inspires high achieving students to challenge themselves and change the world – which is the motto of the Global Scholars honors program."
The Regents Award for Excellence in Philanthropy was presented to First Horizon–Chattanooga in recognition for their generous donation of time and resources, active promotion and support of higher education, exceptional civic responsibility, leadership in philanthropy, and community fundraising. "We have a long history of supporting local organizations in order to make the Chattanooga community a better place for all people, and we are a proud supporter and community partner to Chattanooga State," stated Jay Dale, market president, First Horizon. "When Chattanooga State students are successful, we know that lives are literally transformed, and our community grows stronger."
As a donor since 1992, First Horizon and its predecessor First Tennessee, have contributed $228,978 to Chattanooga State, including support for the Health Science Center Capital Campaign in 2009. Chattanooga State's first endowed faculty chair, the First Horizon Business Chair of Excellence award, has been presented to seven distinguished faculty members in our business division.
First Horizon continues to be the presenting sponsor and co-host for Chattanooga State's signature fundraising event, Dinner of Firsts. Proceeds from the event fund scholarships for first-generation students. More than $532,000 has been raised to fund 197 First in the Family scholarships. In addition, First Horizon provided the lead gift for the Tom Edd Wilson First in the Family Scholarship that is currently endowed at $179,930.
"First Horizon is generous to the Chattanooga community both financially and through the volunteerism of their employees," remarked Regent Wamp. "We are grateful to honor First Horizon for generous philanthropic commitments, which have improved outcomes for Chattanooga State's students since 1992 and also to our broader community."
"We are grateful for the opportunity to come alongside Chattanooga State for the greater good of our community through such programs as the First Horizon Endowed Business Chair of Excellence and the Dinner of Firsts Scholarship benefit," said Mr. Dale.
For more information about the Chattanooga State Foundation, contact Tammy Sawyers, director, College Advancement, at (423) 697-3359 or email tammy.sawyers@chattanoogastate.edu.