Chattanooga State Announces Available Scholarships
April 7, 2020 | Betty A. Proctor | Internal Press Release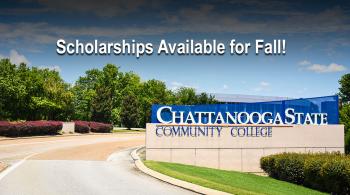 Chattanooga State Community College offers various institutional scholarships to support newly admitted and continuing students. Although the typical application deadline is March 1, several scholarships remain available.  
Students, who are interested in applying, must first complete the 2020-2021 ChattState Scholarship Application and students may follow a tutorial guide at How to Complete a ChattState Scholarship Application.
Scholarships are still available for students within the following majors:
Business: Accounting, Hospitality Management, Media Technology concentration
Humanities and Fine Arts: Art Studio, Music, Professional Acting
Engineering and Information Technologies: Civil Engineering, Information Systems, Mechanical Engineering Technology, Nondestructive Testing Technology, Radiation Protection concentration
Nursing and Allied Health: Dental Assisting, Dental Hygiene, Health Information Management, Pharmacy Technician, Physical Therapist Assistant, Radiologic Technology
Tennessee College of Applied Technology: Landscaping & Turf Management, Practical Nursing, Commercial Truck Driving
Scholarships are generally based on strong academic work, unmet financial need, and a commitment to public service. Foundation scholarships require approval by a Scholarship Committee that reviews academic records, essays, and other application information. During the 2018-2019 academic year, more than $1.2M Institutional and Foundation scholarships were awarded to 865 students.
Incoming adult students for fall 2020 may also want to consider applying for the Tennessee Reconnect Scholarship, a last dollar scholarship designed to help students cover expenses not met by PELL, HOPE, or TSAA. TN Reconnect only covers mandatory tuition and fees.
For more information, contact the Financial Aid Office at FinAid@chattanoogastate.edu.