Chattanooga State Announces All Inclusive Registration Resort Day
July 27, 2021 | Betty A. Proctor | Internal Press Release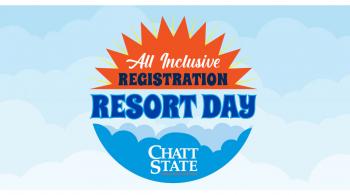 With the fall semester fast approaching, Chattanooga State Community College announces its Registration Resort Day on Saturday, July 31 from 11:00 a.m. to 2:00 p.m. on the main campus, 4501 Amnicola Highway.
According to Dr. Kisha Thomas, director of recruiting, "Students will be in for an all-inclusive Chattanooga State experience during Registration Resort Day that combines fun, activities, music, tours, information, assistance, food, and more."
During Chattanooga State's Registration Resort Day, all departments will be open and staffed to provide the answers to your questions. In addition to admission, registration and financial aid assistance, attendees can enjoy the festive atmosphere and fun that Student Life brings to your college experience. And, explore the many ChattState resources such as help with food or housing, transportation, tutoring, childcare, legal, counseling, veterans, and careers. Learn more about opportunities for massages, dental care, haircuts, fitness fun, and technology support.
Maybe you're just getting back to a more normal existence following the pandemic. And, maybe you've also decided it is time to move forward and think about your future. Chattanooga State is open and will be providing the majority of classes in-person with many classes offering online and virtual options. Our countdown to the first day of classes on August 16 includes the premiere of Chattanooga State's 7-week classes, where every week includes a 3-day weekend!
Make plans to attend this fun and informative event. Reservations are not required, drop by any time between 11 a.m. and 2 p.m. For more information, call Chattanooga State's Office of Recruiting and Orientation at (423) 697-2689.