Chattanooga State Announces 2021 Commencement Plans
April 23, 2021 | Betty A. Proctor | Internal Press Release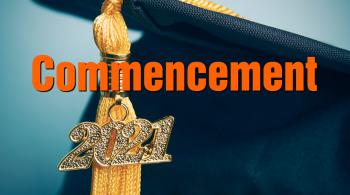 Chattanooga State Community College has announced that its 2021 Commencement ceremonies will be held throughout the week of May 10 and, "we have a lot to celebrate!" shared Brad McCormick, assistant vice president of Enrollment Services.
Thirty-five smaller in-person ceremonies will encompass all academic divisions including Business, Engineering and Information Technologies, Humanities and Fine Arts, Mathematics and Sciences, Nursing and Allied Health, and Social and Behavioral Sciences, and which also will include Collegiate High and University Parallel graduates.
The smaller in-person ceremonies will provide graduates with the opportunity to walk across the graduation stage with up to six guests per graduate in attendance during the private ceremonies. Each ceremony will be streamed live online. A commemorative video that includes all ceremonies will premiere about two weeks after the in-person events.
"Our graduates have so much to celebrate, and these in-person ceremonies are all about celebration," said McCormick. "The smaller format allows us to celebrate while also honoring our commitment to keeping everyone safe."
The Class of 2021 is composed of 1,460 graduate candidates. Sixty-seven percent are female while 33% are males, and 360 grads, or 28%, have become the first member of their family to attend college. The largest percentage of graduates are over 25 years of age at 42%, while the second largest number at 25% belongs to Generation Z grads who are under 20 years of age. The Gen Z age group also includes 402 Tennessee Promise students. Chattanooga State's oldest graduate candidate is age 69, while our youngest is 16.
The following countries represented in the graduating Class of 2021 include Brazil, Canada, Cubs, El Salvador, Germany, India, Mexico, Nigeria, Philippines, Tajikistan, United Kingdom, and Vietnam.
For questions about accessing campus, see https://chattanoogastate.edu/campus-access-instructions or if you have questions and need additional information, email graduation@chattanoogastate.edu.