Chattanooga State Announces 2020 Summer Dean's List
August 14, 2020 | Betty A. Proctor | Internal Press Release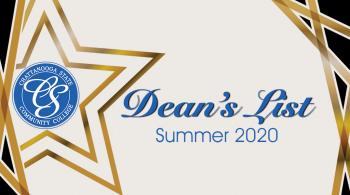 Chattanooga State is proud to announce that the following students have attained Dean's List status for the 2020 summer semester. Eligibility requirements to make the Dean's List includes students who have completed 12 or more hours of college-level work with a grade point average (GPA) of 3.5 or higher for the semester.
Catoosa County, GA: Jessica Brooke Anderson and Han Byeol Lee.
Walker County, GA: Bryson Tucker Lowe.
Bradley County: Julia Caitlin Davidson, Courtney Drake, Jessica Brooke Newman, Anna Rose Roberts.
Grundy County: Jacob Matthew Anderson.
Hamilton County: Uzma Aaqib, Cassidy Lynne Anderson, Caleb Ballard, Zachery Tyler Brackett, Amber Lynn Busby, Noah Damon Dobbs, Colby O'Brian Eaves, Hannah Hyacinth Elle, Leslie Facio, Pamala Michelle Gifford, Kayla P. Haneckow, Lochlyn A. Hardy, Laura Elizabeth Hartman, Eric Hickman, Kersten Brianna Hicks, Ruth Hinchman, Alyssa Brooke Hobbs, Noah Shane Ivey, Jacob William Kenney, Liam Cullen Mall, Lauren Malone, Alexis Dione Massingill, Chandler M.q. Mull, Joshua Ferrell Roark, Ricky Robinson, Kaitlyn R. Rose, Anna Skrypkar, Gabrielle D Smith.
Marion County: Hannah Elizabeth Hutcherson, Kassidy Brooke Payne.
Rhea County: Leonore A. Everett, Sarah E. Mitchell, Victoria Skye Powers.
Sequatchie County: Megan Dawn Grimes.
Congratulations to these students on their academic accomplishments! Fall classes start August 24. Visit chattanoogastate.edu for more information. Chattanooga State. Start here…go anywhere!